The credit bureau USESThey are the credit reporting agencies that are responsible for collecting and maintaining consumer credit information and then reselling that information to companies that need your credit report.
What is the Credit Bureau USA
In the United States there is not a single credit bureau USES but several but the main ones are TransUnion, Experian and EquifaxThey are not government companies but for-profit offices. However, the government and its legislation with the Fair Credit Reporting Act regulates how these offices operate.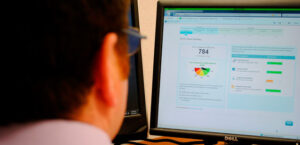 These credit bureaus do business with businesses, credit card issuers, and banks where you can have an account. This business connection makes your account history appear on the credit reports of one or all three bureaus.
As a user, you have the right to be able to view your credit report and request the report for free at the three credit bureaus once a year at AnnualCredsitReport.com
If you need the report more than once a year you can buy it at any time in any of the three offices and you will get the report in a single document and if when reviewing the document you find errors, you can challenge the incorrect information.
If you need to contact the three credit bureaus, you can do so with Equifax on their website equifax.com, by mail at POBOX 740241 Atlanta, GA 30374-0241 or by phone 1-800-685-1111.
You can also contact Experian on their website experian.com, by mail at POBOX 2104, Alen, TX 75013-0949, by phone at 1-888-EXPERIAN (397-3742)
If you want to contact TransUnion online, you can do so by going to their website transunion.com, by mail at POBOX 1000, Chester, PA 19022 or by phone at 1-800-916-8800.
Keep in mind that the three credit bureaus operate independently without sharing information and creditors can send the reports to the three credit bureaus or choose only one of them, for this reason it is common that your credit information is not the same you receive from the three agencies.
So when you apply for a loan, the creditor checks your credit by getting the report from a single credit bureau because it is less expensive.
Check the credit for free
Remember that you have the right to check your credit for free once a year in the three credit agencies, as federal law in the United States requires that as a consumer you obtain your free credit report as a consumer right to protect yourself from crimes and practices fraudulent.
Therefore, you can request a free and updated copy of your credit history from TransUnion, Experian and Equifax because the FCRA, the FDCPA and the fair credit transfer law indicate that you have the right to request your credit report once a year. , whether you request it online, by mail or by phone by providing your date of birth, social security number, your address and your full name.
In your credit report you will get the information about where you lived and if you pay your bills on time or are late. You will find accounts in poor condition, overdue debts and collection accounts, as it is important that you take charge of verifying the accuracy of this report once a year because it is common to find errors, especially due to identity theft.
Credit bureau phone
You can contact TransUnion, Experian and Equifax by phone to request your free credit report once a year, because although they all have the option that you can request it online, they also offer you an 800 to request it by phone.
With Experian you can call 800-846-5279 as an automated service or 714-830-700 so you can speak to a person, but have the most recent report from Experian with you.
With TransUnion you can call 800-916-8800 or Equifax at 1-800-766-0008.
Credit agencies
TransUnion, Equifax Y Experian They are the three main credit bureaus from which you can request your credit report and you have the right to do so once a year, either in different months of the year or all three at the same time.
But you can also request your credit report online and free at AnnualCreditReport.com or by calling 1-877-322-8228 and if you have hearing problems and do not hear, access the TTY service, call 711 and you will refer the operator to phone 1 -800-821-7232.
If instead of requesting your credit report by phone or online, you prefer to do it by mail, you will complete the form in PDF file and send it to POBOX 105281 Atlanta, GA 30348-5281.
It may be that your application is denied, then you will contact the CRA, the credit reporting agency so that you can resolve the problem and the agency will inform you why your application was denied and will tell you how you should proceed, since generally the Delegation is due to incorrect or missing information for you to get your free report. If you still couldn't solve the problem, you should contact the CFPB, the consumer financial protection office.
The truth is that with your credit report that shows a high credit score, it influences whether you can access a reduction in your insurance rate, rent an apartment or obtain a loan.
Credit report
You have the right by law to request your credit report once a year through the three main credit bureaus and you can do it for free every year at Experian, TrtansUnion and Equifax and even the Consumer Financial Protection Office and the Federal Commission of Commerce on its official website has free information about the credit report indicating the laws and your rights that are guaranteed, therefore do not hesitate to verify your credit because the law protects you and therefore none of the agencies mentioned can prevent you from applying. your free report or buy it if you need it more than once a year.