You need government grants for single mothers? Do you think that nobody can help you? Well, you are wrong because there are programs that if you are a single mother in need you can access them, do you want to know what they are? Keep reading.,..
What are the government grants for single mothers
The following government grants for single mothers, financed by federal funds and therefore if you are a single mother with needs you can access them:
Women, Infants and Children
The FNS, the Food and Nutrition Service of the United States Department of Agriculture, has a federal program called Women, infants and children for low-income single mothers.
You may qualify for this program if you are pregnant, have just had your baby, or are breastfeeding and your child will be eligible for this program up to 5 years of age.
In turn, to be eligible on the other hand, your income must be low and have a risk of poor nutrition.
TANF
TANF is the Temporary Assistance for Needy Families program funded by the federal government by creating and managing its own programs to assist needy families including single mothers with low income.
To be eligible for this TANF program, you must have a part-time or full-time job. If you don't have a job, you should at least be training to get it and actively seek employment.
It also requires you to have work experience, participate in a community service program, or babysit for another TANF recipient, meaning you must get involved in the community.
SNAP
SNAP is supplemental assistance for people in need. It is a supplemental nutritional assistance program. If you access this program you will have a debit card instead of food stamps.
When you sign up and are accepted, you will receive the SNAP BBT card that you can use to buy food at grocery stores where you are accepted to pay with SNAP.
National school lunch program
If you access the national school lunch program, it will provide breakfasts and lunches to your child in need.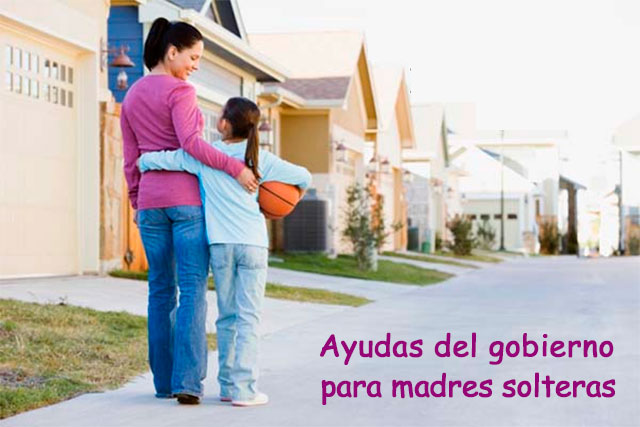 Help for single mothers
You can also get help even though you don't qualify for Medicaid, as this is free or low-cost health insurance provided by the state.
But if your income does not allow you to qualify for Medicaid, enroll your children or yourself if you are pregnant and single and you will be able to access CHIP health insurance.
You can access federal scholarships for single mothers. This is the ideal program for you if you are thinking of training and qualifying yourself to get a good job.
With the Pell grants from the United States Department of Education as a future student you can receive up to $ 5,775 to enter one of the colleges or universities participating in the program. It is not a loan but a grant that you will not repay. To access, go to FACSA and complete the form to apply for the scholarship.
Federal rental and housing assistance
1.This is a program for single mothers funded by HUD, the United States Department of Housing and Urban Development. United.
The program offers you rental housing as a low-income family in apartments, single-family homes or private properties. At the same time, it allows you to convert the rent of public housing into a mortgage payment.
In order for you to access this program, you must calculate that the total income of your household must not exceed half the average income of the place where you live, that is, it must be 50% of the average income or an amount less than it.
Government aid for single mothers in Mexico
Other government grants for single mothers, but in this case of Mexico they are:
You can access the housing support program provided by FONAPO, the national fund for popular rooms.
As a single mother, you will access the subsidy if you are the head of the family with an economic dependent.
Come to the SZEDATU, Delegation of the secretariat of agrarian, territorial and urban development.
Complete the CUIS, Socioeconomic Information Questionnaire.
If you can't get close to the state where you live, download it and print it.
But if your intention is to acquire, build or improve your home, go in person to the SEDATU corresponding to your state.
Once in the entity, it will be the head of the housing unit who will offer you the information so that you can obtain the subsidy.
SEDESOL
SEDESOL, is the program of the secretariat of social development that supports single mothers who work. It is a program based on subsidies from 900 to 1800 Mexican pesos per month.
The subsidy is directed to the attention and care of children under the care of single mothers.
The ages of the girls or boys must be from one year to 3 years of age to one day before they turn 4 years old.
In the case of children with a disability, the program assists with the subsidy from one year to 5 years of age, until one day before they turn 6 years old.
To access this assistance program for single mothers, the income of each person who is part of your household must not exceed what is understood as a welfare line.
In addition, to be eligible you must be able to study and stay active in the labor market and meet these requirements:
Requirements
Not having a child care service.
Income must not exceed the basic basket.
Being a student, working or job seeking mother.
Modalities
The program presents two modalities among which you must find yourself to access the subsidy:
Single mothers or guardians with work or studying or looking for work with income for each inhabitant of the household not exceeding the welfare line and who do not access child care and attention services through public institutions.
Natural and legal persons who offer themselves to child care and care services as part of the program of persons responsible for children's instances.