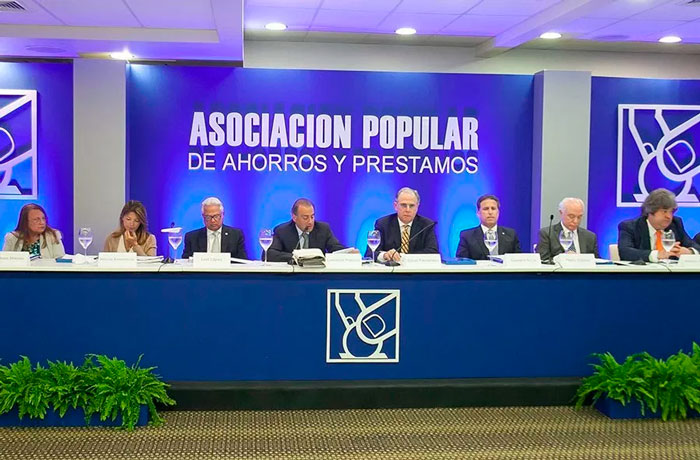 Do you want to know about the Popular Association of Savings and Loans (APAP) Why do you need to open a savings account or apply for a loan but you are not sure if you qualify as a person or company? Well, below you will know exactly how this Dominican entity works.
How the Popular Savings and Loans Association works
The popular association of savings and loans It is an entity that opened its doors in 1972.
Since its inception, it has worked to promote home loans and savings.
It also works with dedication to national industries and businesses in order to ensure their progress.
In fact, it is an entity that widely contributed to the economic and social development of the Dominican Republic by granting loans to middle and lower class people and to small and medium-sized companies under financing policies that are socially responsible.
The entity focuses on the well-being of the community with actions aimed at promoting sports, health, and housing, without neglecting the vision of the protection and conservation of the environment.
It is an entity with social responsibility which is supported by the Ciberfácil Rooms that were created from an agreement with the Dominican Institute of Telecommunications.
They are virtual rooms that were installed in the provinces of Puerto Plata, Mao and Valverde.
They are free rooms and libraries that offer young people from rural areas a stimulus that allows them access to the internet and literature with the intention of providing them with a path to knowledge and a social and economic evolution.
The national savings and loans It is aware of the extension of this plan with libraries and virtual rooms to other areas of the Dominican Republic.
What the national savings and loan association offers
The National Savings and Loans Association offers you to buy, remodel or build your house in a very simple way.
The repayment terms are a minimum of 5 years and a maximum of 30 years with a housing and real estate guarantee.
It offers you financing of up to 80% on the value of the house you want to buy or on its appraisal, always considering the lower value.
You can schedule payments with automatic debit
It offers you disability and life insurance as a guarantee for the entire loan in the event of a claim.
It also has protection on your investment with fire insurance.
By signing you can pay the closing costs or you can deduct them from the disbursement.
After the year with your loan, if you have a need, you have access to morePersonal loans.

Requirements to access the loan of the national savings and loans
You must be a natural person between the ages of 18 and 70.
You must show that you have a job with an antiquity that is not less than 6 months.
You must submit the corresponding application signed and completed.
You must present a photocopy of your identity document if you are the applicant and that of your spouse if you are a married person.
If you are a married person, you will present the marriage certificate (original)
You must show that you work by presenting your salary receipt.
You will present your savings account statement, checking account, credit card (the last three months)
A report on the appraisal of the property you want to buy, which must be made by the authorized appraiser of the national or by the BNV.
A copy of the title deed or the duplicate.
The certification of liens and charges.
If you need the loan for remodeling or construction, you will present the work budget.
The real estate property tax.
Loans for vehicles of the association the national savings and loans Santo Domingo
If and you need a loan to buy a vehicle, it is also provided by the national savings and loans:
You can request a loan for the company of a new vehicle 0 km or up to 2 years of manufacture or used with financing of up to 6 years for the new car and 5 for the used car.
The financing will cover you up to 80% of the sale price of the new car.
You can schedule payments with automatic debit.
Your investment is protected with 100% motor vehicle insurance
You can pay the closing costs at the time of signing the contract.
You must be a natural person between the ages of 18 and 70.
You must prove that you have been in your employment for 6 months.
You must submit the signed and completed loan application.
You will present a copy of your identity document and the guarantor.
You will present your salary receipts or an affidavit from the signers.
11 You will present the copy of your driver's license.
You will present the quote for the vehicle you want to buy.
13 If you prefer the loan to buy a used car, it must be up to 5 years old.
Where the National Savings and Loans Association is located – Main Office
The association the national savings and loans main office it is located in:
Ave. 27 de Febrero 218, Ens Vergel Santo Domingo, Dominican Republic.
The main office telephone (telephone exchange is: (809) 688-6631 ext 2170, 2333
You can communicate by phone: 8069-731-3333.
If you want to send an email you can do it to

[email protected]

If you need to report the theft or loss of your debit or credit card, you can call the direct phone number in Santo Domingo 24 hours a day: (809) 686-1409, the central phone number is (809) 688 6631 option 1, phonofácil (809)731-3333 option 1, from your cell phone dial * 256 option 1
If you lick from the inside, call toll free at 1 (809) 200-6631. If you are calling from Canada or the United States, call toll free at (888) 708-9793
Information about the national association of savings and loans branches
The national savings and loan company has several branches throughout the national territory with flexible hours.
The office hours of the branches are Monday through Friday from 8.15 am to 4.43 pm
They also serve you on Saturdays from 9 am to 1 pm
From the city you can contact Fonofácil at (809) 731-3333 option 0.
From the inside, they can contact you free of charge at 1 (809) 200-3333.
From your cell phone you can call * 256 with Tricom and Claro.
The telephone exchange is (809-829) 688-6631
What is apap online?
Apap online is the new functionality provided by the entity so that you can carry out all your transactions and review your account from the comfort of your home or office.
Login to www.apap.com.do
Once you agree, you can pay your credit card in dollars.
You will make payments to third parties and transfers.
You can make multiple transfers in a single transaction.
You can check the latest transactions, check balances, online movements, account statements and much more.
The Popular Association of Horros and Loans provides you with access to all the functionalities if you are a client.
In addition, with APAPPMóvil you can go shopping and make the most of all the features it has, such as:
• Activation and blocking of credit cards.
• Cash advances with credit to my APAP account.
• Credit Exchange.
• Graph of the consumption on my credit cards.
• Payments for basic services.
• Recharges of minutes to cell phones.
• Travel report.
• Instant LBTR transactions.
• Transactions with other banks.
• Transactions in APAP.
• Availability 24/7.