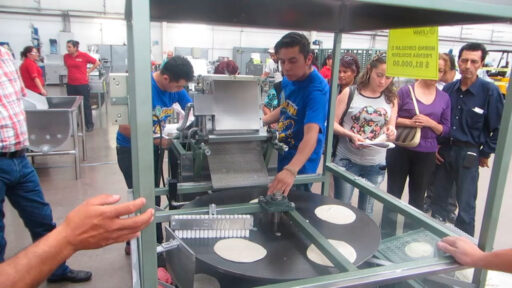 If you are looking for the requirements in order to open a tortilla shop, it means that you know the economic advantage of this business and the growth it has had within the United States.
Well, corn or wheat are sold in the United States with great success, but if you want to succeed with your business you must meet all the requirements, so keep reading …
Steps and requirements to open a tortilla shop
Step 1: Write a business plan for open a tortilla shopBefore you go around town to find out how your competitors are running their business, read articles about the tortilla industry and consider what types of tortillas your business will make.
Keep in mind that a successful business plan includes a business summary, organization detail, management structure, accounting practices, market analysis, product description, and funding requests.
Step 2: Apply for permits and licenses, because as a new company, you will surely need the business license, the tax identification number and civil liability insurance.
According to local ordinances you may need additional permits for food handling, to operate the machinery to make the tortillas, distribute them to restaurants, supermarkets and other businesses.
For this reason, you should investigate the local, state and federal requirements that are mandatory to start a food-based business, as many requirements vary depending on where your business is located.
It may even be necessary for you to require a commercial kitchen for the sale of food for the consumption of your customers, in addition to registering your business with the Food and Drug Administration.
In most states, you will be required to obtain an inspection through a state inspector.
Step 3: If you plan to do business under a name other than your own, you will need to register that chosen name of your business by contacting the county court to find out where you can register the business name.
Step 4: Buy the equipment to produce the tortillas, because although you can produce them manually, it will require too much labor and time, therefore it is recommended that you buy equipment such as mixers, dough dividers, tortilla presses, counters and packaging equipment.
Well, keep in mind that some teams can produce flour and corn tortillas of different sizes. But before buying the equipment, measure the space you have available, to check if the machines will have the correct space, since generally the equipment for making tortillas is large.
Step 5: Have a tortilla recipe with you, because if you buy a new machine you will have a recipe booklet for tortillas, but if you decide on a second-hand machine you will need your own recipe.
Well, it is also possible that you think about developing your own recipe for corn and wheat tortillas and then you must have the necessary quantities for batches of different sizes.
As ingredients you should only think of corn or wheat flour, water, vegetable butter and baking powder, but try to develop a unique recipe that will identify the commercial brand of your business.
Step 6: Locate a wholesale store to buy the ingredients, since tortillas have a low profit margin, so you should save money, for example you can consult a restaurant to find out where you can buy corn or corn flour. wholesale wheat.
You should also buy containers in quantity for the tortillas. As for the packaging you can buy it printed with the name of your business or without the name, because if you start your business with a tight budget, you should buy the packaging without the name and then you can insert it with a label with the name of your company , food information and ingredients.
Step 7Create a distribution plan, thinking that at first your target consumers will be for example ethnic markets and local restaurants, therefore you should develop a plan for the delivery of tortillas to these companies.
In this way you need labels, shipping boxes, wrappers and develop a delivery plan.
If you later ship the tortillas to national grocery stores, you will need to develop a more sophisticated distribution plan with outsourcing the service.
Step 8: Analyze the market, because you should know the demand for tortillas in local restaurants, bakeries and supermarkets, then go to stores, supermarkets and restaurants with fresh samples of your product to promote your tortillas.
You can also take advantage of the holidays to offer samples of your product in supermarkets, as it is a good way to promote your new business.
Step 9: Promote your tortilla business with your business cards, as it is a good way to spread the word about opening your business. You can also take advantage of social media, place ads in local newspapers, magazines and television.
Necessary equipment and requirements to open a tortilla shop
Although these are not legal requirements, the rlittle things to open a tortilla shop They also include the necessary equipment for the opening of your business:
Tortilla press: Tortilla press helps you flatten the dumpling and serves for scale production. If your tortilla business will be dedicated to artisan production, you will need an automatic tortilla machine to efficiently press and cook the tortillas.
Models vary depending on whether you choose to produce corn or wheat tortillas and also vary in speed and efficiency in production capacity.
As for the industrial tortilla machines, they can be calibrated for the production of tortillas of different sizes and thicknesses and are powered by electricity or steam injection.
Dough mixers: Unless you buy a high-end tortilla machine that will include a dough mixer, you will need to purchase a separate mixer to make the dough from wheat flour or corn flour to work in conjunction with the press.
Keep in mind that the dough mixer for the tortillas is the same as that used to mix the dough of the different bakery products including breads and pizzas, but you should know that they must with an inclination that allows the dough to be transferred correctly from the mixer to the tortilla press.
They are powered by electricity and should be designed in such a way that the parts in contact with the dough can be easy to clean and remove.
Packing equipment: As a tortilla maker, you must use equipment designed to package and label products. The tortilla packaging equipment must be able to weigh, count and stack the finished tortillas, bag them, and then seal the bags.
The heat that is used to seal the bags must be at a sufficient distance from the finished tortillas, to prevent them from being cooked again, and the seal must be airtight. If you pack the tortillas in boxes, you can use ribbons to close the boxes and then label them.