The building cleaning licenses are necessary when you plan to create your own company either in terms of performing cleaning in houses or offices. Well, you must always comply with the legal considerations required by the law of the state where your company is established.
In fact, the creation of a company in addition to requiring you to make a good choice of the field, you must obtain permits, licenses, and you must also consider the health of your clients, the insurance for your company and your employees.
The legal structure of the company to obtain building cleaning licenses
To get the building cleaning licenses You should have already thought about how your cleaning business will operate, since you can create an individual company or an association, because you must consider the legal form that protects personal liability, such as when creating a limited liability company or a corporation.
Unlike other types of businesses such as professional businesses or a consultancy, your cleaning business will operate in other people's offices or homes and it is also likely that you will have employees who participate in the physical activity of cleaning tasks.
Therefore, this means that there is a probability that an employee or other person could be injured or that a client's property will be damaged by you or your employees, which means that your business will be liable for those damages.
For this reason, in the face of a lawsuit from your clients, you can be protected in terms of your personal assets if you created a legal structure for your business under the protection of a limited liability company.
Therefore, it is important that you determine the legal structure of the company either as a sole proprietor, a corporation or it can be a partnership.
So if you created a sole proprietorship or a general partnership, you will file a fictitious name certificate with the county clerk's office.
You can check a list of licenses from the Small Business Association to determine if the state where your business is located requires you to be licensed.
In the event that you do not need the license, you must obtain the EIN, the federal employer identification number.
The EIN You will request it through the Internal Revenue Service and in the event that you obtain a license, together you will obtain the tax identification number.
Even if you operate as a sole proprietor, you should consider the need to obtain the federal tax identification number, which is known as EIN.
You can complete the EIN application online from the official irs.gov site.
However, other building cleaning permits and licenses are also necessary, such as:
Business license, fire code permit. Hazardous materials communication, wastewater discharge permit, EPA or State identification number.
The permitting and licensing information your business needs can be easily obtained from the Governor's Office of Business and Economic Development for the state in question.
Although house or office cleaning is not one of the most dangerous activities, cleaning personnel work with items that can be toxic and even when moving around the workplace accidents can occur.
If you hire employees, you need to prepare an injury and illness prevention plan, for which you will obtain information from the Occupational Health and Safety Division of the Industrial Relations Department.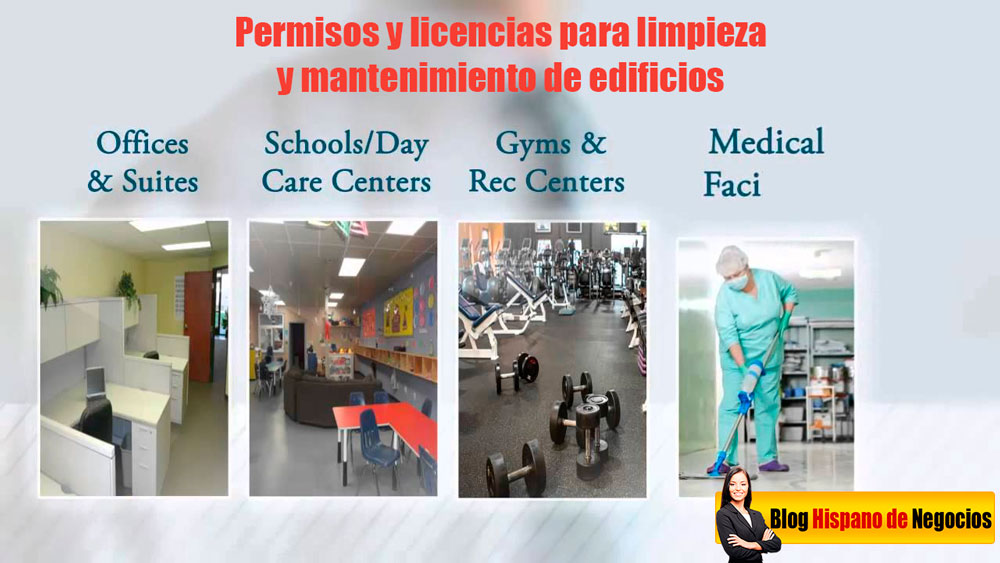 OSHA: Occupational Safety and Health also has a series of regulations related to the protection of eyes, face, hands, feet, dangerous substances and ventilation.
On the official OSHA site you can find the federal safety and health rules in the Cleaning Industries section.
Depending on each city, you may need special permits to guarantee the safety of the home against any remodeling, change of the structure, plumbing and mechanical systems of the house.
Once the building maintenance work that required any electrical work is completed, you must apply for a permit through the city, stating that the project has been completed.
A construction official will then inspect the work to verify that all state and federal building codes have been met.
Projects that require a building cleaning permit or licenses
Maintenance projects that require a building cleaning permit or licenses They are:
Decks, porches, sheds, garages under construction, finishing a basement, installing a water heater, adding windows, bedrooms, bathrooms, replacing an oven, siding or roofing, and installing a underground lawn irrigation system.
Business license: Depending on each state, commercial cleaning companies may require a business license.
Well, their goal is to ensure that the company meets specified operating standards and federal requirements, but a federal license is not required.
Taxes: Information on federal, state, and local income taxes can be found at the Internal Revenue Service.
Then in the State Social Security Office and Labor Commission you will find everything related to employment taxes and everything related to business taxes you will find in the State Comptroller of Public Accounts.
Work accident insurance: You will also have to manage an insurance company for work accident insurance since you will hire employees for your company.
Well, as an employer you must comply with state and federal laws that determine the need to establish wage security, workplace accidents and workplace safety.
However, as each state is different on its official website, you should look for and read everything related to the laws that govern cleaning and maintenance activities, since generally there is the possibility of exemptions and they will also tell you everything you can. And you can't do it without getting a contractor's license.
Well, in most states you won't need a license to work on minor repairs.
But for example in some states like California You will need the license even if the work does not reach a value of 500 dollars.