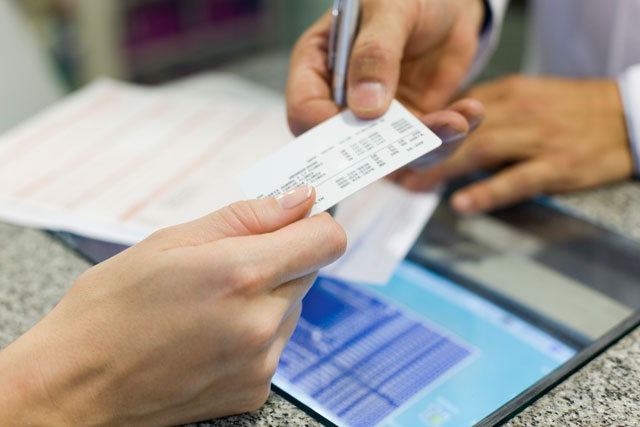 Find one low cost medical insurance It is not as difficult as it may seem. Here are the steps you need to take so that you can reduce costs.
How to find low cost health insurance in the United States
To find one low cost medical insurance follow each of the following steps:
Step 1: First of all it will always be necessary that you buy a Medical insuranceBecause if you don't buy it, medical care will be much more expensive if you haven't bought any.
Depending on the state where you live and your income, you may qualify for Medicaid. To do this you can contact the nearest Medicaid office or go to
www.Healthcare.gov
and you will determine if you are eligible.
If you have children, keep in mind that many states have expanded coverage for children through the Children's Health Insurance Program, known as CHIP. To find out if your children qualify for CHIP, go to the official Medicaid site and answer the questions in Can I get it?
Then check to see if your children may be eligible under their father's coverage, since if you are divorced and if your ex-spouse has employer-provided health insurance, your children may be included under his coverage.
Step 2: Think what you need and can pay. Assuming step 1 applies to you, when searching for cheap health insurance you need to determine what you need in terms of coverage and what you can afford.
If you buy more coverage than you need, you will spend more than what you need and as for what you can afford, you cannot spend more than what you have available.
Under the Affordable Care Act, each individual health insurance plan must cover 10 essential health benefits.
Essential benefits of the Affordable Care Act
Outpatient care without requiring admission to a hospital.
Visits to the emergency room.
Hospital care in a hospital.
Care before and after the baby is born.
Mental health and substance use disorder services.
Medications with straight
Services and devices to aid recovery from injury or treatment of a disability or chronic condition including physical and occupational therapy.
Lab tests.
Preventive services.
Dental care and vision care for children.
Although the list may seem complete, keep in mind that different health insurers may vary the way they cover these benefits, so think about the specific needs you may have.
Step 3: Go to Healthcare.gov and complete the form. This is an easy step, if you do it during the enrollment period that begins on November 1 or if you apply for a qualified life change such as if you get married, have a baby or lose other coverage, you will be able to qualify.
Anyway when you fill out the form, the website will help you find out if you've had a life change to qualify.
You start by providing an email address to create an account, then the site will send you an email to verify your email address.
Once you verify you will be able to log into the site, you will complete the application and you will also be informed if you qualify for Medicaid.
Step 4: Compare the costs. Healthcare will show you the health insurance options available in your state along with the premiums and the amount of federal subsidies you could receive, if any.
The number of options available will depend on where you live, because assuming there are insurers in your state, you can choose between bronze, silver, gold and platinum plans.
Now you will compare the prices of each plan and not just the Premium prices.
Bronze Medicaid Plans
Bronze plans will surely have the cheapest premiums, you will pay only 60% of medical costs compared to 80% of platinum plans.
Manage yourself like companies that when they buy products and services, look for what is called total cost of ownership, which includes the costs associated with the purchase. Therefore, to find cheap health insurance you must take this same path.
Think about the medical costs of the last few years. Next, calculate how much you would have spent based on deductibles, co-payments and coinsurance, in addition to what you would spend on the monthly premiums for each plan, as you may find that the cheapest health insurance plan for you is not the plan of bronze nor the plan of silver.
Adjust the calculations by estimating what your medical costs could be in the next year, even if you do not expect any changes, it can be useful to visualize what could happen next year and evaluate it based on your health insurance.
Examples for cheap health insurance
For example, if you are a young university student who wants to return to your parents 'health coverage until you find a job, you should only contact your parents' insurance company to find out if it offers coverage for dependents, then if you receive a positive response They will accept you until you are 26 years old and you will be eligible even if you live far from your parents' home or if you are married.
You will then find out when you can sign up, as you may have to wait until the sign-up period starts, which usually takes place between November and January.
However, keep in mind that joining the parents' insurance will not be free, since the plan only covers a parent or the parent with their spouse, so the monthly cost will go up when you join.
It may also be that you have bought your own insurance and are having trouble paying for it, you may be able to get tax credits to lower your premiums and health insurance costs, but to be eligible you must be a legal resident or citizen.
You will then buy your coverage through your state's new health insurance marketplace, also called an exchange.
If you earn less than $ 16,400 if you were single or you earn less than $ 33,500 and your family consists of four people, you may be eligible for Medicaid, as Medicaid will cost you less than a market plan. However, not all states expand to Medicaid, so if you earn less than 11,880, you may not be able to enroll in Medicaid and you may not be able to access a tax credit either.
In fact, you won't be eligible for tax credits if you can get coverage through your job, but the coverage your employer offers you should always be affordable.
If your company offers you a plan with a cost greater than 9.66% of your income or that does not cover at least 60% of the cost of covered benefits, you can look for a more affordable plan within the market of your state and you can receive tax credits for reduce costs.
Deductible health plan as low cost health insurance
If you need medical care very often, it might be cheaper for you to pay each time you have a lower deductible, as it means that your health plan will start to contribute to the cost of care.
Well, with high-deductible health insurance, you can consider starting a health savings account, known as an HSA. It is a type of investment account that pairs with the high deductible health plan and allows you to pay for medical bills with the money you have set aside tax free.
Low cost health insurance in California
California accepted the expansion of Medicaid and implemented the state market. Therefore, expanding Medicaid eligibility to include almost all older adults with incomes below 138% poverty is one of the main strategies to reduce the uninsured.
Low cost health insurance in Houston
In Houston, when you receive health care services, you and your health plan often share the costs.
Deductibles
Most plans have a deductible as the amount of covered medical costs that you must pay your account before your insurer begins to share the costs.
Coinsurance
After you meet your deductible, you will start paying copayments and coinsurance.
Copayments are the fixed amount you must pay regardless of the total cost of the service. In most plans you must meet the deductible and will have to pay a copayment each time you see a doctor.
Coinsurance is the percentage of costs that you are responsible for after meeting your deductible.
Low cost health insurance in Texas
In Texas, you can refer to the program Medicaid where you will find information and eligibility requirements for the federally funded program.
You may even be eligible for the Insure a Child program, which is responsible for helping families obtain health insurance through TexCare.