If you are constantly reading, searching or are an online entrepreneur, you know perfectly the value of marketing strategies to achieve better results in any type of business, be they online or offline.
Therefore there is always the possibility, and even more so when you work as a marketing consultant in your city, to unite or create strategies that complement each other forming a whole; the online and the offline.
In this post I want to share some ideas that can help you in this task, that of developing your marketing or your Brand by joining both worlds, the physical and the online.
Tips and ideas that you will find useful to connect what you do online with your offline tasks.
When we think of marketing, especially if we are used to online business, we think of objectives, strategies, social networks, blogs, web pages, videos, etc, etc., often leaving aside its usefulness and application in the world that we live.
Undoubtedly one of the smartest ways to get results is to unite both worlds, leverage traditional media and put them to work together with strategies known as online.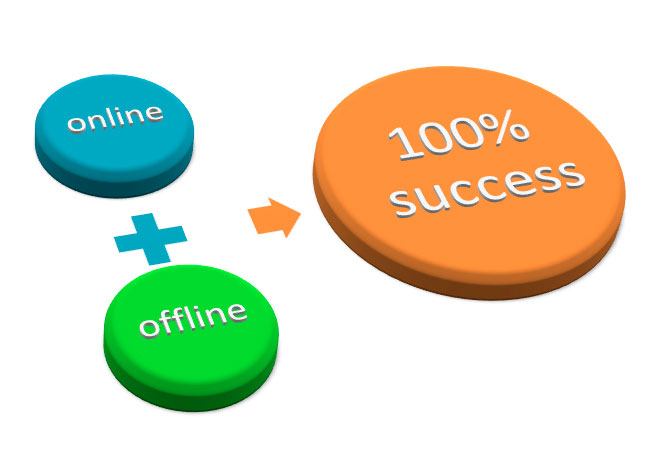 Attendand to seminars, lectures or give talks about what you already master online
Training is always necessary in this world, even more so that everything changes so fast, so it is always good to keep an eye on the events that exist in your city on the topics that you like and are passionate about. This is also a good opportunity to make contacts, distribute flyers, etc., so that people access a web address where they can find you for more information, I can assure you that it is very effective.
The other case is that you start giving presentations or conferences in places that deal with topics related to what you do online, when doing so always make sure to make it clear where they can find you online for more information about what you do and how how you can help them.
Offer interviews to newspapers or radio stations in your city
Many radio stations and publications in our cities have segments or sections in which various topics are discussed. It is another opportunity to offer ourselves to attend talks or interviews in which we talk about what we do and how we can help people; once again I don't have to stress to you how important it is that the people who listen to your interview or read your opinion can know exactly how to find you online.
Use your business or service to also connect online
If you already run your own business or are offering your professional services, it is important to find a way for our clients or visitors to leave us their email, telephone, watshapp, etc. In this way we can upload that data to our databases and begin to connect with them by offering them more information, news, offers, etc.
The way to do it is by requesting their permission, of course, but also by inviting them to giveaways, promotions, participate in special offers, etc. In this way, people will leave you their data, since they can benefit from a raffle, for example.
Create radio advertising or in local newspapers to direct your interested public to your website
Advertising in your city by radio media or newspapers and magazines is also another good option to communicate and enhance your results in your online business, since many interested people may arrive here waiting to know more about what you can do for them.
It is preferable to always have a landing page or a special page on your website where you give something of high value to the people who enter this page, interested in what you can do for them. In this way you will already be connected with them online and you will be able to contact them whenever you want.
My recommendation is that you never send them directly to your blog or to your home page, since the chances of them leaving their data will be greatly reduced, in the same way you can do tests and test which is the best option in your case and niche market you are working on.
Social networks, the gateway to your digital assets
Finally, without a doubt, social networks are one of the best options to connect potential clients with your digital assets, since you do not need a website in principle, you simply invite them to connect with your Facebook page for example and from there then you will be in charge of connecting with them and inviting them to your blog or website, even inviting them to know your products online.
The reality is that marketing is one, there are no separations, we do marketing from the moment we get up until we go to bed and that day ends; therefore we should always get used to involving everything that happens in our daily lives, in our city, with what we are doing on the web; since we are not one person online and another physically, what we express, what we think should be constantly consistent.
I hope this post is useful for you, I invite you to leave your comments or share this post with other people who may find this information useful.