If you are about to open a company in the United States, you need the Doing Business As (DBA) to register the commercial name, since instead of using your own name as a trademark of your company you can think of a fictitious name and therefore you must register it with that name that you chose.
But how to do it? You will read it below …
The Doing Business As (DBA) to register your business name
The Doing Business As (DBA) It is the fictitious name that you chose for your company, that is, it will be the commercial name that is therefore not the same as your own name and is not even the same as that of your partners or the name that was officially registered for your corporation or LLC.
For example assuming you open a cleaning business and that your name is Juan Pérez, you decide that your business is called Juan Pérez Cleaning.
You have chosen a false or fictitious name and therefore you must register the commercial name with the government agency that corresponds to your locality.
When you register the legal name of your business, you must also request licenses, permits and the employer's tax identification number.
However, it may be that the state where your business is established does not require you to register the fictitious name of your company, therefore you will need to find out at your local office.
You should go to the county clerk's office or the state government clerk, as it depends on where your business is located.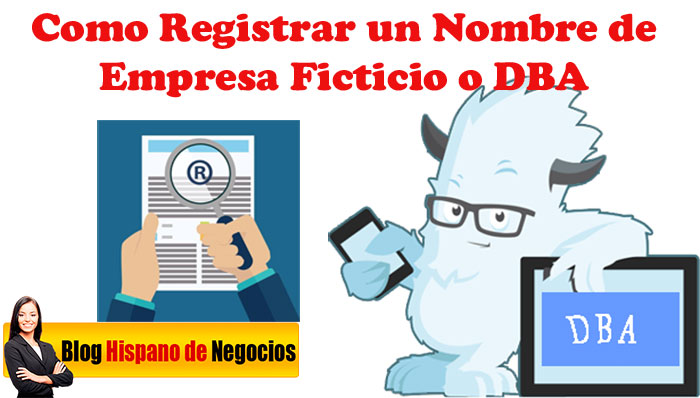 The DBA and registration with the state government: Only some companies require registration with the state government, for example a corporation, a non-profit organization or a limited liability company must register the name with the state government.
But if you establish your business as a sole proprietorship you will not have to register it at the state level. Although many states require sole proprietors to use their own name as the business name, unless another name is formally presented, which is commonly known as a business name.
You should also think that you could have created a business as a sole proprietor, however as time passes and conditions change, that initial choice will not be permanent.
Since the sole proprietorship may have grown in such a way that you begin to perceive risks of personal liability and then you can turn your business into a LCC.
Therefore, you will have changed the structure of the business, for which you must be guided by the information provided by the Internal Revenue Service for changes in the organization or property.
Well, you must present other documents to the state government, which are different according to local and state laws.
These governments generally require companies to register alternative names under which they do business.
The DBA allows your company to operate legally under a trade name that is also known as fictitious or assumed.
By having a DBA, individual owners or general partners can do business using a different name than personal.
In fact, limited liability companies, corporations, and non-profit organizations, when filing a DBA, do business using a different name than their original documents.
Step by step how to register a Doing Business As (DBA)
In principle, registration is very easy, since you can do it online from the website uspto.gov.
But first of all you must make sure that the name you chose has not been previously registered by another company within the same category.
Brand protection: Trademark protection offers the first company the use of a particular trademark within a geographic area in which it operates regardless of whether it has already been registered.
But if the brand you chose has already been registered by another company, even for the first time, your registration will be rejected.
Costs: When you register your brand online, it will have a value of between 275 and 325 dollars, in addition to asking you for information about the categories of goods for which you use the brand, the date of the first use of the brand in the store and if you are looking for a design special for the brand.
But since it is an online management, it will not register the trademark with the web extension .com or .net, unless you plan to register your trademark with some extension.
By registering a trademark without a web extension, you prevent other companies from registering the same name by adding a different extension.
Also, do not think about a specific design for your trademark because you will not get a broader protection.
Request response: According to the patent and trademark office, you should receive a response to your application within 6 months of submitting it.
However, on some occasions it will be necessary for you to seek the advice of an intellectual property lawyer if the name of the trademark you chose is very similar to another already registered and can confuse the consumer.
Well, the shortened registration of very generic names is very difficult, such as: we offer cleaning or dusting cleaning services, these are specific cases in which a lawyer who is knowledgeable in trademarks can help you in some way to protect your generic and poorly descriptive trademark.
However, there is a difference between trademark and trade name, as trademark registration will offer protection to a slogan, logo and symbols while trade name does not offer protection.
So remember that you can do it online or at the county clerk's office or state government.