Do you need a US bank account but are not an American? Are you living abroad? Looking for options to request it remotely?
If you are a frequent traveler to the US, someone planning to relocate to the US, or perhaps a student planning to pursue a college degree in the US, opening a bank account is probably one of your checklists. Open a bank account as a foreigner It is a bit complicated to do especially in the United States, the regulations were tightened due to various types of money laundering and the requirements became more complex. But don't worry, opening a U.S. bank account as a foreigner is still possible with preparation, proper documentation, and a little patience.
What are the advantages of having a bank account in the United States?
With a US bank account, you can freely access your money and avoid huge international fees while in the US.
If you plan to work with a US company, you will have no problem having your salary directly deposited into your account.
US bank accounts basically earn more interest.
Buying or receiving payments online is much easier with a US bank account.
What are the requirements to open a bank account in the USA?
Please note that not all banks have the same set of requirements, sometimes it varies depending on the state you plan to reside / move in. However, the following are the usual and most common requirements of most banks:
Passport
Proof of address (for example, statement or utility bill)
Credit / debit card from your country
Social Security Number (here is a tutorial on how to get an SSN as a non-citizen)
Initial Deposit
Account opening procedure
Go to the bank
Bring the required documents
Interview / sign up
Make an initial deposit. Please note that for large deposits, proof of funds may be required.
Do I need to travel to the United States to open an account?
In most cases, yes. To make the account opening procedure easier, visiting the US to open an account would be a great thing, however, going to the US just to open an account is not really a requirement for some banks today. day, you can open an account online, such as at payoneer can open a free bank account.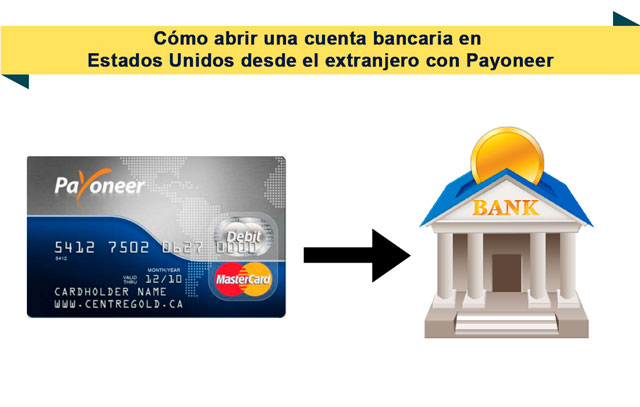 How to open a bank account from abroad?
Not all banks allow this, but there are some like HSBC Y Citibank It allows you to open a bank account without having to fly to the United States just to open an account. To do this, you can:
1. Contact the bank representative for assistance – some banks may allow you to send your documents by scanning and emailing them.
2. If you plan to open an account with a global bank that is also operating in your country (such as HSBC, CitiBank, Barclays, and others) you can coordinate with them to help you open a bank account in the United States prior to your arrival. .
3. Register online. Some banks like Chase & Bank of America offer online application services.
Best US Banks to Open a Bank Account
Wells Fargo, Capital One, Bank of America, JP Morgan Chase & Suntrust will allow you to open an account for yourself without any hassle as long as you submit all the necessary documents.
How to open a bank account without a physical address
Use the address of a close relative or relative
Use a friend's address
Use a registered agent / mail forwarding service address. If all else fails, using the address of a registered agent should be your minimum option. Some banks will accept it, especially if the mail service provider is small and less likely to be marked as a registered agent address.
Use a personal mailbox in the store UPS.
This is basically like a combined mail forwarding + PO box service – only it gives you a real street address and not a PO box number. Plus, you can choose from any location in the UPS Store.
If you plan to open a bank account and declare your address as a registered agent, you will most likely be disapproved or rejected. As part of KYC (Know-your-customer), banks require a legal physical address. Typically, you can choose between these 4 options mentioned above and open an account without telling the bank anything about the specified address.
Requirements for the corporate account / Business Account
Passport + secondary identification
Articles of incorporation / organization
Proof of address (for example, utility bill / account statement)
Employer Identification Number
Legal business address
Initial deposit
Expected cash flow figures
Open a business account from abroad
As mentioned above, opening a personal bank account is basically the easiest way to get an account, especially if it is a corporate account. However, if going to the US is not an option for you, there are certain banks that can help you establish an account without having to fly to states like Wells Fargo & Bank of America.