The application for American citizenship, has questions along 20 pages in addition to 18 pages with instructions that you should also read to complete it correctly, which may seem difficult but you do not need the help of a lawyer, since it is not as difficult as you think.
Steps to complete the American citizenship application – American Citizenship application
The American citizenship application it is form N-400. If your case is not complicated, you can solve it without the help of a lawyer by following these steps to present it:
Part 1: Information about your eligibility
Part 1 is one of the most important sections because while most candidates will apply as a lawful permanent resident of the United States for at least 5 years, some will be eligible to apply in less than 5 years.
For example, if you are a permanent resident for at least 3 months and you are married and living with your United States citizen spouse.
The eligibility categories are:
Permanent legal resident for at least 5 years.
Permanent legal resident for at least 3 years and married to a United States citizen spouse.
Part 2: personal information
This section covers general information. You must complete it carefully with all the elements from 1 to 4 that refer to your name, as the USCIS asks for variations of your name, therefore it is important that you provide all the variations of your name to avoid confusion and maintain consistency with others legal documents.
The legal name
Your legal name is your current full name. This is usually the name you read on your certificate, unless it was changed after birth due to legal action such as a court order or marriage.
Name of the permanent residence card
The name you read on your permanent resident card may be slightly different from the legal name you use, so enter your name exactly as it appears on your card, even if it has changed or is misspelled.
Other names
Your other names include any additional names that you have used in the past. It usually includes maiden names or a name that you used before changing the legal name.
Including nicknames that you have used on legal documents, bank accounts, identification cards such as a driver's license, work permit, criminal records, and school records.
Part 3: for people with disabilities or impairments.
Your disability or impairment is not an obstacle to your citizenship, as USCIS can tailor your appointments by communicating that you need help with a wheelchair, sign language, or something else. Use part 3 to describe your need or impairment.
Part 4: Contact information:
At least leave a phone number so USCIS can contact you.
Part 5: Information about your residence
You must list 5 years of your address history, but if you have married a U.S. citizen, you will only need to document 3 years of address history, as USCIS uses part 5 to determine that you met the continuous residence requirement.
Certificate of naturalization for us citizenship
In general, each time period of the last 5 years should be taken into account when it is finished, since you could have traveled between each residence to another country.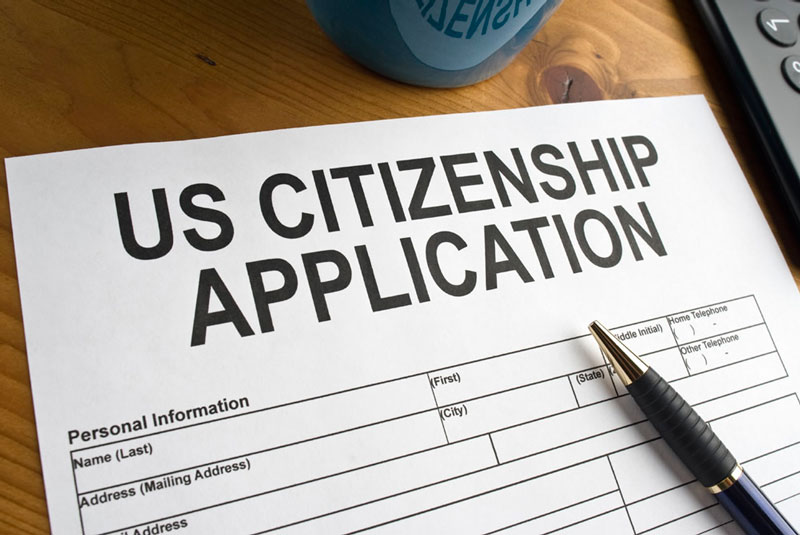 What is the application for American citizenship
The form of application citizenship N-400 is the one used to obtain citizenship.
You can apply as a legal permanent resident who is a green card holder and over 18 years of age if you meet one of the requirements to be eligible.
Advantages of United States citizenship
By obtaining United States citizenship, you will have the right to vote on federal elections.
You can also make your qualified family members able to live permanently in the United States.
You can have your foreign-born children obtain their citizenship, because if your child was born outside your country and you have US citizenship, that child can automatically become a US citizen.
With a United States passport, you can travel freely across the borders of the United States without time restriction and with the assistance of the United States government while you travel.
You can become a federal employee, as you must be a United States citizen to fill these jobs.
You can even be an elected official.
How much does the application for American citizenship cost?
The cost of applying for American citizenship is much lower than maintaining a green card, since if you are a permanent resident you must renew your green card every 10 years with a fee of $ 540 For each renewal and if it has been stolen or lost, you must pay another $ 540 with the risk of the increased cost that USCIS may apply.
But the cost of applying for citizenship is 725 dollars and you pay it once to USCIS, if you pay with a credit card you can use Discover, American Express, MasterCard or Visa.
Fee waiver
If you are unable to pay the filing fees, USCIS established a fee waiver process if you prove that you cannot pay, which is governed by the N-400 form where you will need to provide documentation showing that you qualify for one of these criteria:
1.If you, your spouse, or the head of household who lives with you currently receive a measured benefit such as a Supplemental Nutrition Assistance or Medicaid program, Supplemental Security Income, or Temporary Assistance for Needy Families.
Your household income is at or below 150% of what the federal poverty guidelines consider at the time of application.
If you are experiencing financial problems that prevent you from paying the filing fee, including emergency medical bills.
Along with the N-400 form you can submit the I-912 form to request the fee waiver including the tests that meet these criteria.
What are the Documents for American citizenship?
You must present the following documents for American citizenship:
Photocopy of both sides of your permanent residence card, if you lost the card, send a photocopy of the I.90 form with the request to replace the permanent residence card.
Pay the corresponding fee and the fee for biometric services. You can use a check or money order to pay the application fee and fingerprinting fee,
Two identical color photographs, printed on photographic quality paper, 2 x 2 inches in size and no older than 6 months showing a full and clear front view of your face with your name written on the back with pencil.
For this photo you must dress in normal clothing without sunglasses or a hat, against a matte white background, a natural expression, with both eyes open and looking straight ahead.
You can smile without exaggeration and your face should be well focused and without the head tilted up, to the side or down, exposing the ears and with the face shown from the hairline to the lower part of the face.