It is important for you to know the clinics for people without health insuranceIt is essential that you receive medical attention even without insurance, it is your life, your health and you cannot play, so you are looking for them and below you will find a list so that you can go to them despite not having insurance that covers you.
Alternative clinics for people without health insurance
If you do not have insurance, in addition to clinics for people without health insurance accounts with health insurance alternatives, for example:
ER, is an emergency room that you can go to in the event that you suffer a very serious injury or life-threatening illness, go to the ER closest to your home, as you do not need to have medical insurance.
The medical hospital has an emergency room where you can go, since no public hospital will deny your care even though you do not have insurance, as it is different from a private hospital where your emergency condition will be considered.
If you do not have insurance and in the hospital you receive a treatment or surgery after which they provide you with a bill that you cannot pay because it exceeds your financial situation, you can speak with the billing department to reduce your bill or have it forgiven or at least you can request an interest-free payment plan.
The HRSA, through the health center program of the administration of health services and resources, has health centers in the United States where you can go if you suffer an injury or illness considered minor, that is, you can consult a doctor at a free clinic.
Health centers that offer low-cost and free services including oral health services, care for substance use disorder, mental health care, pharmacies and primary care participate in the program.
HRSA also offers support and prevention of health problems and treatment services including education.
You can go to retail health care clinics without an appointment. They offer you health care at a lower cost than an office visit and at a discount in emergency rooms.
You can go to urgent care centers including weekends without having to have insurance. They are health care centers that include fractures, infections, allergic reaction, animal bites, flu, etc. And they'll even see you faster than in an emergency room.
Direct Primary Care Providers is one way for you to obtain uninsured health care by paying a low monthly, quarterly, or annual fee directly to a professional for a number of primary care services and for office visits.
You can also enroll in Medicaid, depending on your income you can access free or at least low-cost health coverage that is provided to low-income children and families, the elderly, people with disabilities and pregnant women.
However, depending on the state where you reside, the Medicaid program was extended to people with an income level that is less than 138% of the limit that is considered poverty.
To find out if you are eligible you can access heslthcare.gov or by Medicaid agency which corresponds to your state.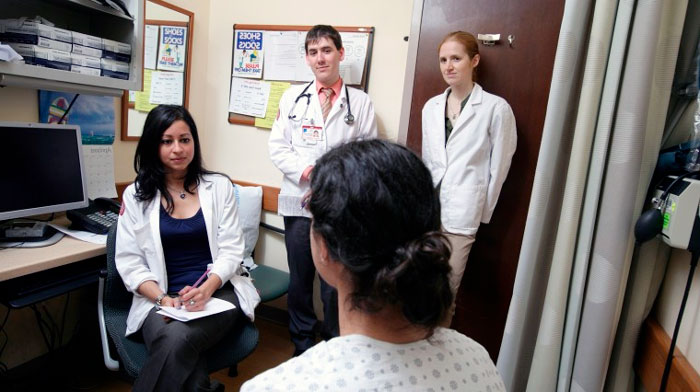 What are the free clinics for women?
In turn there are several free clinics for women What:
The Institute for Family Health at 17th Street: 230 West 17th Street, New York, NY 10011. Phone: (212) 206-5200
California Fertility and Surgical Associates: 2428 Santa Monica Blvd. Phone: (310) 453-8500.
Thumos Health Center: 984 St. Pacific Palisades Monument. Phone: (310) 927-2792
Santa Monica Eye Medical Group: Blvd. Santa Monica 1908. Phone: (310) 829-5475
5 . Women's Health Services: 1233 N Vermont Ave. East Hollywood. Phone: (323) 666-5116.
Los Angeles Women's Health Center: 1513 S Grand Ave. Downtown. Phone: (213) 742-6400.
Hollywood Mobile Clinic: 6430 Selma Ave. Hollywood. Phone: (323) 237-8732.
My Choice Medical Center: 4903 W Pico Blvd. Mid Wilshir. Phone: (866) 397-3070.
Your medical clinic: 1414 S Grand St. Downtown. Phone: (213) 747-4391.
Hollywood-Sunset Free Clinic: 3324 W Sunset Blvd. Silver Lake. Phone: (323) 660-2400.
Marine Women's Medical Group: 12555 W Jefferson Blvd. Playa Vista. Phone: (310) 822-5066.
Claris Health: Phone: (310) 499-2708.
Women's Health FPA: 601 S Westmoreland Ave. Wilshire Center. Phone: (213) 738-7283
Van Nuys Women's Care. Phone: (818) 785-1890.
Westside Travel Medicine and Immunizations: 2001 Santa Monica Blvd. Phone (310) 315-1855.
What is cliniCommunity Community Clinic?
The community clinic is the Community Clinic, which has been operating for more than 20 years providing quality health services at affordable prices in Benton and Washington counties.
Their health services include pediatrics, primary care, physical care, behavioral health dental, and prenatal care.
It offers its health services in both English and Spanish with forms of insurance such as Medicare, Medicaid and others, as it also offers a discount program to patients depending on their income and the composition of their family, since it aims to offer medical care to those who need it regardless of their ability to pay.
You can make an appointment with a community clinic by calling 1-855-438-2280 or you can send an email to [email protected]
If you need medical attention you can register on their website and within 48 hours you will receive an email to set up your patient account and request your appointment, you will see the record of doctors and you will be able to communicate with your provider.
What is the Hispanic Community Clinic?
The Hispanic community clinic is the Hispanic Lutheran Hospital Clinic where you can receive bilingual health care services.
The objective of the clinic is to provide the Hispanic community with medical attention from education, consultations and the prevention of diseases for the patient, extending it to his family.
List of clinics for the uninsured in Miami
The following list of Miami Uninsured Clinics They are community health centers that are based on patient income and aimed at the uninsured or low-income, for example:
Camillus Health Services – Miami: Miami, FL – 33128. Phone: (305) 374-1065.
Salvation Army – Miami: Miami, FL – 33142. Phone: 305-637-6720.
Ponce Family Health Center – Miami: Miami, FL – 33146. Phone: 305-351-1316.
Norland Medical Center – Miami: Miami, FL – 33169. Phone: 305-694-6270.
Mother Teresa Sister of Charity – Miami: Miami, FL – 33136. Telephone: (305) 326-0032.
Mbchc Center for Haitian Studies – Miami: Miami, FL – 33138. Phone: 305-538-8835 x1.
John A. Ferguson Senior Sbhc – Miami: Miami, FL – 33185. Phone: 305-408-2700.
James E Scott Satellite – Miami: Miami, FL – 33147. Phone: (305) 637-6400.
Helen B Bentley Family Health – Miami: Miami, FL – 33133. Phone: 305-351-1316.
North Family Health Center – Miami: Miami, FL – 33147. Phone: 305-694-6900.