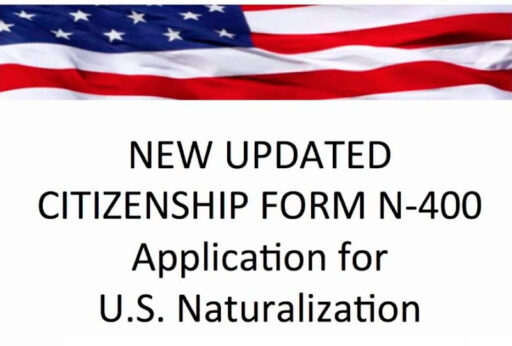 If you meet certain requirements, you can make it easy for you to application for citizenshipIf you want to be a United States citizen, you can be at the time of birth or after birth.
But what must you be or do to receive citizenship? Keep reading…
Applying for Citizenship: Eligibility Requirements
The application for citizenship requires you to meet the eligibility requirements, which are:
Be 18 years of age or older at the time of application submission.
You must be a green card holder for at least 5 years prior to the date you present the Form N-400, application for naturalization.
You must have lived within the USCIS state or district with jurisdiction over your place of residence for at least 3 months prior to submitting the application.
If you are a student, you can apply for naturalization where you go to school or where your family lives if you are still financially dependent on your parents.
Have continuous residence in the United States as a green card holder for the 5 years prior to the date you submit the application.
You must have been physically present in the United States for at least 30 months out of the 5 years prior to the date you submit the application.
Have continuous residence in the United States from the date of application for naturalization until the time of naturalization.
You must speak, read and write in English and have knowledge and understanding of the history and government of the United States.
But 55-year-olds who have been permanent residents for at least 15 years are excepted.
Also excepted are 50-year-olds who have been permanent residents for at least 20 years
If you have a permanent physical or mental impairment that makes you unable to meet these requirements.
You must be a person with good moral values ​​and related to the principles of the United States Constitution.

When can you apply for citizenship?
You can apply for citizenship if you are at least 18 years old and have been a permanent resident of the United States for at least 5 years or for at least 3 years during which you have been with your husband or wife with US citizenship.
How to apply for citizenship?
To apply for citizenship, you must submit form N-400, but the application for citizenship you can present it from abroad, since USCIS has educational materials and resources to help you prepare for the civic citizenship and English test.
For information on preparing for the civics and English test, you can go to the Citizenship and Resources Center on the official website of USCIS.gov/citizenship.
How long does the American citizenship process take?
The United States citizenship application process can take less than a year or several years. If you are not a permanent resident but wish to become a United States citizen, you must first immigrate to the United States and become a lawful permanent resident.
Once you become a permanent resident, the process can take a few years and you will have to stay in the United States and establish your residence for 5 years without prolonged absences.
Once the 5 years have passed, you can apply for naturalization.
If you are an active member of the US military or have married a US citizen, the residency requirement may be much less.
For example, if you marry a US citizen, you only have to wait 3 years to obtain permanent residence and apply for US citizenship.
If you are a permanent resident who established residence in the United States for the required time, the process of applying for US citizenship can take between 6 months and a year or even more.
To begin the citizenship process, as an immigrant you must submit form N-400 from USCIS, Citizenship and Immigration Services.
Keep in mind that any mistake in the form can delay the process, so it is important that you complete it as accurately and completely as possible.
Once your application for American citizenship has been reviewed by USCIS and has been accepted, you will be scheduled a date for a citizenship test and an interview, the time of the delay of the programming will depend on your location, as some districts have lists long waiting times.
Instructions for filling out form n-400
Part 1: Enter your A number from your green card, then check the box that matches your eligibility.
Part 2:
Question 1: Enter your full name.
Question 2: Enter your name as it appears on your permanent residence card.
Question 3: Provide alternate versions of your name.
Question 4: Change of name (optional) if you have wanted to change this is an opportunity.
Question 5: United States social security number.
Question 6: USCIS online account number.
Question 7: enter your gender.
Question 8: Your date of birth.
Question 9: date you became a permanent resident (you can find it on your green card)
Questions 10 and 11: Your country of birth.
Questions 12 and 13: Notify USCIS if you have a physical or mental disability and request an exemption.
Part 3: Accommodation for people with disabilities and / or handicaps, you can request USCIS to make accommodations based on your disability.
Part 4: Information to contact you
Questions 1 to 5: Your phone numbers and email address are requested.
Part 5: Information about your residence.
Enter your current address in section A.
In section B, you will enter a different email address if your home address is an unsafe place to receive mail.,
In section C, you will enter all your previous addresses for the last 5 years from the recent to the old.
Part 6: Information about your parents. If your parents are US citizens, your citizenship process is automatic.
Part 7: Biographical Information
Please complete this part honestly because USCS needs to know if you have a criminal record.
Part 9: Time out of the United States
You must show that you spent the minimum required time in the United States in the years prior to filing the N-400 form and that the visits outside the country did not last long.
Part 10: Information about your marriage history

Form n-400 questions
The questions about your criminal history are extensive and you should mention any arrests by immigration authorities.
You will also need to provide evidence that proves the outcome of your criminal case.
Question 30F: Keep in mind that if you help a family member to enter the United States illegally it is a crime, if you did, answer "yes"
Question 31: The United States government includes immigration authorities, so if you have provided false information on a green card, visa or other application of this type, answer "yes"
Questions 33 to 36: They ask you if you have been in removal, exclusion or deportation proceedings. If you were recently summoned for immigration court proceedings, applying for citizenship will not protect you and your application is likely to be denied.
Question 44: Question about selective service registration.
Questions 45 to 50: You must show that you are loyal to America and will fight if necessary.