It is a bird! No, it's an airplane! No, it's Superman! This is how the richest Asian in the world is known, who occupies number 11 on the prestigious list of Forbes magazine, with a fortune of 26,000 million dollars.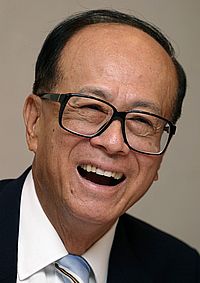 At 83, Li Ka-shing Businessman, owns the largest port company in the world, as well as being the largest retail distributor of health and beauty products on the planet. The nickname of Superman earned it because his fortune was totally made with work and pulse, considering that Ka-shing didn't even graduate from high school.
Li married his first cousin. With the death of his father he assumed the reins of the family, at the age of 15 he stopped studying to start the first of the companies that make up his emporium, Cheung Kong Industries.
Today the company is one of the largest real estate investors in the world, particularly in Asia, and it is also the controller of Hutchinson Wampoa, the largest port management company on the planet. Currently, this company handles around 15% of the total container traffic in the world, through its huge ports, mostly in China, Hong Kong and Singapore.
Besides being a superhero to do business and money, Li has gained fame for his ethical and responsible way of working and making money. He has not deviated from his values ​​and principles since he began, he has no luxuries and lives in a relatively austere way, his Seiko watch being famous that he has carried on his wrist for years, also wearing simple suits and black shoes that are far from the big ones. brands commonly used by tycoons.
Li Ka-shing's businesses are present in many aspects of Hong Kong people's daily lives, from electricity to telecommunications, to real estate and retail, as well as international freight logistics and the Internet.
His human side is shown by donating more than $ 1.5 billion to causes such as health and education, he has also promised to donate a third of his fortune to philanthropic causes when he dies. His sons, Victor Li and Richard Li, have said they will follow in their father's footsteps.
Despite his little formal education, we can be sure that his financial education weighs more when it comes to do business and money.