If you are a representative of a brand, and even more so in social networks such as community manager, here errors can not be allowed. What is written lasts even if it is a tweet or a publication, it can make a simple mistake a viral case that reaches the news and some (not to mention you) lose their jobs.
That is the importance of always learning from the mistakes of others to take care of our backs. In that tune I share a small list of seven mistakes you should never make as a Community Manager.
It is only necessary to clarify that the illustrations presented in this article are screenshots or screenshots made by different people which I could not identify, if you know who made the shot, I would appreciate if you would notify me to thank and mention them.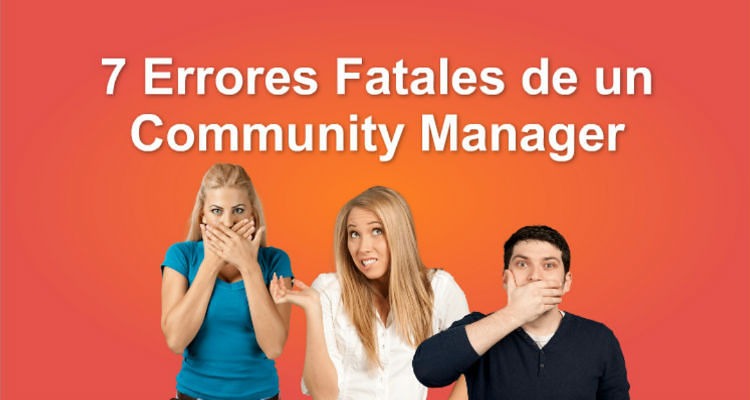 1. Do not differentiate between your personal account and that of the company.
The most common mistake you can see has happened to you since community manager from the corner store to the account of the president of a country himself. Always make sure to check before entering the publication, check which profile and which social network you are publishing on. If you use Tweetdeck or Hootsuite, DO NOT include your personal profile in conjunction with those of work.
2. Make a mistake by putting a photograph that does not correspond to the text.
The best solution to avoid being rushed is to plan. Have a publication calendar that includes social network, date, text (in the case of Twitter, check that they are less than 140 characters), photography. Once you have this, at least a week in advance ask a colleague / boss to help you recheck it.
3. Forgetting to check spelling.
If you're writing directly to the platform, always make sure to check the spelling. Do not trust yourself, write at least first in a text sheet like Word, if you have a doubt in a word, I think there are plenty of dictionaries. Make sure two or three times that you do not give a wrong or confusing message, much less one that can be understood in a double sense.
4. That they do not see you, does not mean that you can deceive people.
If you represent a public figure, it is common that you are not publishing from where he or she is. Remember that the people who follow that person expect them to post and not you. So if you say that you are going to be or are or were, please remove the georeferences always.
5. Don't take comments personally, or start fights.
Please, but please, I really recommend you and I ask you, whenever you read an aggressive, negative comment or that speaks ill of your brand. BREATHE, take a deep breath, count to ten before answering. Listen and identify why the person talks like this, review your action plan or crisis control seeking to solve the problem of that person or their annoyance. I repeat Listen and take positive action, do not respond to the aggression and for nothing in the world delete the negative comment, that would only show that you are not interested.
6. Do not experience platforms, or grant access to third parties.
Experiments should always be performed with an alternate account dedicated to this activity. Experience third-party platforms, they can post for you since you've given them that privilege. It looks bad and even worse, people notice it. Remember that you are in the role of your brand and not that of a 15-year-old child itchingentering or registering) to how much portal you go through.
7. If you invite an app or link, make sure it works.
Sometimes we have to make calls to action according to the objectives that set the strategy. The use of Apps and links to sites where we want our community to participate are excellent tools to achieve our objectives. Unfortunately there are also those who do not make sure that the links are well written, that the page loads as it should, that it can be seen on the different platforms. It is your obligation to always check.
If you have reached this point, I appreciate your reading, hoping that it has been useful to you and if you liked it, do not hesitate to share it with your classmates, work, colleagues, family or with the world, I will thank you infinitely.
I do not say goodbye without first asking what did you think of the article? Do you think I should add any more points?