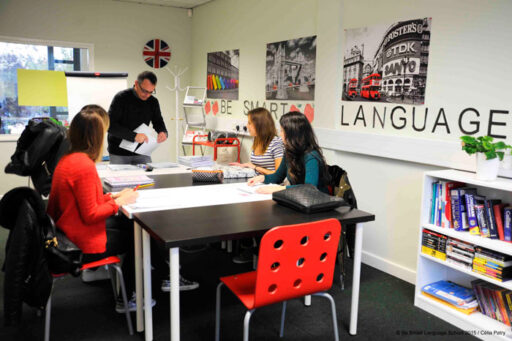 You want to drink advanced english class But you don't know where to go and you also want to study English and receive a certificate at the end of your studies, right?
Well, you know how important it is that you become certified in a language such as English when you reside in the United States and to get back to your surroundings correctly, you need to master the language very well.
Well then, below you will receive the information you are looking for so that you can sign up for an institute and start your English classes …
Where to take advanced English class
To drink advanced english class And that at the end of the course you receive your certificate, there are several possibilities for you to evaluate in which of the following institutes it is convenient for you to study:
Tesol: Advanced English
Tesol allows you to take advanced level English classes. You can study online, so you study according to your schedule possibilities, at your own pace and adapting the institution's curriculum to your lifestyle.
The institution offers you the Tesol Expert program aimed at acquiring theoretical knowledge of the English language as your second language. If it focuses on children, adults and professionals.
This is a program that gives you a certification with three courses Tesol for business (business), Telsol for children (children and Tesol Advanced (advanced.
Sign up by entering: https://americantesol.com/tesol-expert-catalog.html
You must complete a form with your name and surname, your email address, then you must choose from the menu which is your highest level of education.
Then the system tells you the price of the different levels of the course. You will check Yes to accept the terms of service and click on Enroll Now.
Accademiccourses.com
Accademiccourses.com offers you to study intensive English with a program geared towards students like you whose native language is not English.
It is even a program that if you know something about the English language will help you improve your skills and prepare you for a university level.
In fact, it is aimed at improving your speaking, writing, reading and listening skills.
You can register by entering https://www.studentshub.com/
ELS:
ELS helps you prepare with an advanced level of English covering various skills so that you can focus on your academic future.
When you finish level 112 you get the certificate that is accepted by more than 600 members and by the ELS university, because your certificate will show that you have a sufficient command of English for your admission and even with a level 109 several universities will also accept you associated.
If you successfully complete level 112 you can choose to continue with the Master modules, which is important for your own educational growth.
You will gain essential language skills in grammar, pronunciation, writing, reading, listening and writing skills that you will need for your future academic endeavors.
You can apply by going to: https://www.els.edu/en/els-application-form

Where to take advanced English courses
In addition to the above institutions, if you want to take advanced english courses you can be guided by the following list of institutions:
Austin Community College
1.Austin Community College, offers you an intensive English program on the Highland campus. There are 4 levels that are carried out over 4 weeks. Each session has a cost of $ 2,200.
You can enroll by going to: https://www.academiccourses.com/Intensive-English-Program/USA/Austin-Community-College/
Complete the form with your name and surname, your gender, your year of birth, nationality, email, telephone, the location of your last study, what is the start you want, display the menu to choose the question you want to ask and send the form.
University of Southern Indiana
1.University of Southern Indiana offers you an intensive English program called IEP with a curriculum taught by expert instructors.
With affordable costs, it offers you classes with few students so that you can interact more easily with the instructors.
There are 5 sessions with a duration of 8 weeks from August to June and another session from mid-May to mid-July.
Moraine Valley Community College
1.Moraine Valley Community College offers you an intensive English program geared towards students whose native language is not English so that you can improve your skills and prepare for a university level.
It offers you certificate courses with a level of English so that you can develop personally and profanely and you can get a job presenting your degree.
You can apply by going to https://enroll.morainevalley.edu/
Then fill out the form with your email, confirm your email and click Submit.
Where to take free advanced English courses
In case you want to take free advanced english courses You also have several options of institutions that offer you to study English at a cost of 0:
The University of Pennsylvania together with the United States Department of the United States offers you online courses known as MOOCs for non-native students to allow you to develop language skills in English.
You will find the courses on Coursera, the w platform is associated with organizations and universities around the world.
They are courses that are offered twice a year, for example you can take English classes for entrepreneurship and business if you want to work within the business environment learning to carry out market studies, business plans and communicate with clients and partners regardless of the place in the world .
It also offers you to study English for journalism if you are interested in speaking English with the public, editing, writing, reading and correcting.
You can even take English for professional development classes to gain interviewing and resume writing skills in English.
Share America is a website that offers you several free resources for you to learn to speak English through conversations and practice.
Even on their Facebook page you can acquire knowledge through learning materials that are published every day.
If you live in the United States, there are nonprofit schools and organizations that offer programs for you to learn English.
Contact your state university or community college where they will offer you local study programs.
Where to take an English course
To take a abansado english course You also have very varied options such as:
CEL is College of English Language, it offers you courses in schools in California, Santa Monica and Pacific Beach.
Classes have a maximum of 12 students so you can take more personal, dynamic and enriching classes that will result in an interesting international perspective when interacting with international students.
CEA (English Language Accreditation Commission accredits CEL. It consists of 6-level courses, TOELF preparation, Cambridge exam preparation and also offers private lessons.
You can request a quote to register by accessing: https://www.idiomas-cursos.com/ budget