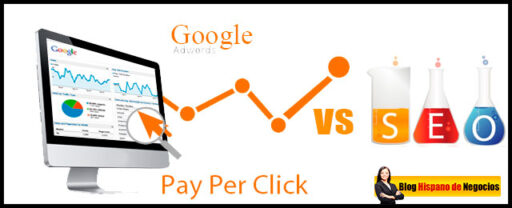 All entrepreneurs want to build a successful business, without a doubt, but for this a more than important factor is the potential clients or what is the same, our visitors to each of the digital assets that we have created.
Now, bringing traffic to our sites is not a difficult task, even more so today where new sources of traffic are added every day that we can incorporate, of course, the traffic that enters our site is not the only factor that we achieve conversions, But it is the deciding factor where it all starts to roll.
In this post, I want to talk to you about the two great ways to generate traffic to our business, I am talking about FREE WEB TRAFFIC and PAYMENT WEB TRAFFIC.
Free and paid web traffic, differences and benefits.
Generating traffic is a process that we cannot carry out randomly, the traffic can come from different parts of the web but they are directed to a certain content that needs to have a purpose, an end, in terms of marketing we cannot create some type of content If it does not have a specific purpose, what could be any of these purposes?
– Generate traffic to a new website.
– Generate subscribers to our subscriber list.
– Promote a product or service.
– Promote events.
– Content for creation of Personal Brand.
-Etc.
FREE TRAFFIC.
In reality this does not exist, we call it free simply because you do not need to invest money to get visitors to your site but the opposite of this is that there is an asset much more valuable than money, which once lost you cannot recover, and this is THE TIME.
Working to generate free traffic is only the beginning and a minimum part of your business, which we cannot neglect, of course; But when you spend only creating content, different material to bring traffic to your website, you are consuming your LIFETIME, time that you could have been using to create products, special content for different projects, etc.
There are different channels from which we can receive free traffic, these can be for example the different social networks, social bookmarking platforms, forum sites, from comments on other blogs, from articles that you have written to collaborate with other experts or professionals of your industry, video platforms, podcast platforms or online presentations, among others.
As I mentioned before, creating free traffic takes time and one of the biggest disadvantages is precisely this, you have to consume your time, it is true that you can hire other people to create content, but you would be paying for it, which is not very profitable unless you have an excellent system behind that produces good conversions and results; And this at the beginning is not something that is achieved overnight.
My recommendation is that you start generating free traffic from your different contributions in social networks, video channels, interactions with other entrepreneurs, etc., but that you start little by little to work with paid traffic, for example from the audiences in Facebook Ads. This platform is excellent to start experimenting with how your system behaves with payment traffic, I recommend this platform since you can start with very little money, for example with $ 1.00 a day.
PAYMENT TRAFFIC
Undoubtedly, a business is built using various sources of traffic, but there comes a time when paying for traffic becomes necessary in order to grow and reach new levels in your business.
Currently there are various platforms from which we can bring paid traffic to our business, but here is something fundamental to take into account to start working firmly and safely in this traffic system, at least if what you want is to achieve conversions and not only lose the money that you are paying in your campaigns, this is CREATING SYSTEMS and ANALYZING METRICS.
For your work with paid traffic to be effective, you need behind each campaign a system that receives your traffic, this is not only having a specific purpose, but a whole journey or sales funnel so you can count the traffic you are receiving, without this you can only lose money.
Now, this system needs to be perfectly integrated into the Measurement or Tracking platforms which will allow you to have control of what you are doing and have the possibility to stop, improve or escalate the different campaigns.
Payment traffic, main characteristics:
Fast – In fact you can create a campaign and within five minutes of approval you will be receiving hundreds of people on your website, it is the fastest there is, there is no other option, free traffic can take days until you start to see the results or the first visits.
Measurable – This type of Traffic allows you to be measured in its entirety, from the conversions you are having, the people who are seeing your ads and those who are taking action or not, even from which countries they are arriving or if they are mostly women or men, etc.
Predictable – Only this type of traffic can predict what will happen with your results, for example you can establish metrics that every so many visitors, x number of conversions x number of sales, you can even scale this data or transfer it to other campaigns in which you work with the same audiences among other things.
Scalable- This is so since you will not only have a certain amount of traffic available, such as if you work with the content or the traffic that you find on Google or within Facebook, when you work with paid traffic the options are much greater, the platforms in The ones you can buy traffic are multiple and this makes you achieve a greater reach and therefore your business can grow exponentially.
Payment traffic generation models:
These are just some of them models or ways in which you can get traffic for your business when you are willing to invest in it:
PPC – Pay-per-click traffic, in this case you hire companies or search engines to take visits to your site and what you pay is each of the clicks that your visitors make on the ad site, this is indistinct of whether you get the shares, results or conversions that you were looking for or had defined.
PPV- In this case, what you hire is certain companies such as LeadImpact, Traffic Vance or MediaTraffic, so that when a person wants to visit a certain link, your offer or business is presented to them, this is very common and all of them have surely not happened when we went to see or search for something we see a certain promotion or page, we may or may not be interested but this system charges you for each view or what is the same for each time a visitor sees your page.
Retargeting- Retargeting is a digital marketing technique whose objective is to impact users who have previously interacted with a certain brand. For example: A user enters an ecommerce ready to make a purchase, but at the last moment regrets it and does not do it. For example, if you enter the free market and visit certain products, but do not make any purchase, it is possible that when you browse your Facebook profile you will find those same products promoted by Free Market or Ebay or Amazon, to tell you some cases.
Media purchase- Media buying is about knowing your target audience and knowing where to find them. Most people use media buying to buy ad space on web pages. You can find high traffic websites Instead and choose the ones you want to advertise. They are often cheaper than other outlets, but you can focus on your target audience to maximize conversions.
5 best traffic generation methods
Well, I hope you are much clearer about the different sources of traffic that you can use to make your business known, always the combination of both is the best, since in this way we will have a greater reach of our Brand.
Whether it is paid or free traffic, taking action is undoubtedly the first step, I invite you to leave your comments on this topic or even share the article so that other people can access this information as well.