Part 1: Post Consistently
The secret about a blog is that there are really no secrets to getting it to rank high in search engines and receive constant traffic.
For people with little experience, maintaining a blog with common sense may seem like a secret, but the fact is that if you plant a seed and worry about watering it, you will get good results in the long run.
One of the keys for your blog to be effective and for search engines to know that it exists is to publish articles or post regularly. The simple fact of having a blog, adding some content to it and leaving it there, will honestly do absolutely nothing.
Some time ago I was reading something on a blog that is a great truth … if you don't love your blog, why should Google? Makes sense right? Why are search engines like Google, Bing, Yahoo, Ask, etc, going to notice that your blog is there if you don't notice it for several weeks?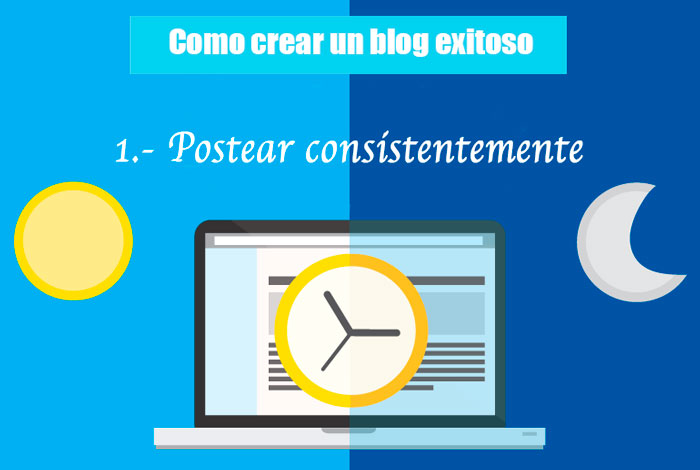 What is regular posting? That will depend on you. You can publish every day, every 2 or 3 days, every week, every two weeks, every month, however, I think that to obtain acceptable results you should do it 2 times a week. Remember that if you want your blog to be the "central nerve" of your business, you have to keep it very active.
This is particularly important for entrepreneurs who are just starting their blogs and want search engines to find their content quickly. When you start your blog and make your first post, search engines will usually find it in the first 24 hours, especially if you also create links on authority websites. This is great, and your site will index quickly.
But many think that since the search engines have already found them, now everything is done and it will be the search engines that will start to follow their blogs. Do you wanna know the truth? They will not. Depending on the keywords you have initially set up, your blog will appear on the first pages for a short period of time generally, but during the following days, it will usually disappear.
The key is to post regularly and make it as natural as possible. What do I mean by this? Don't post a ton of articles one day, and then go weeks without posting anything at all. If you want to publish an article per day, be consistent with it, if you want to publish one every week, make sure to do it every 6 or 7 days. This looks much more natural in the eyes of search engines.
If you publish a lot of articles one day and then nothing for weeks, the search engines "red light" and that can hurt you.
How to create a perfect post to have a successful blog

Part 2: How To Set Up An Effective Blog
After reading Part 1 of this series, I think you are already aware of the fundamental reasons why you need to have an effective blog. So I guess you're wondering "How did you manage to have an effective blog?"
You should not have a blog for the simple fact of having one, because this could deeply damage any effort you have made to establish your presence on the Internet, your Personal Brand. If you set up a blog that doesn't have quality you will leave a poor impression on the minds of the people who have come to it, and once that impression is generated, it can take you 10 times more effort and time to reverse it. You have between 7 and 13 seconds to make a good first impression on your readers, so keep this in mind when setting it up.
Creating an effective blog can be accomplished in a number of ways. The first, and obviously the easiest way is to pay someone to create it for you. There are some professional designers who make a living creating websites and blogs. However, you have to be very certain when choosing well, because the amounts charged per site are very uneven. Even if you pay someone to set up your blog, you should take a reasonable time to study how it works exactly, since it will be you who then has to maintain it (here you also have options and pay for maintenance)
Other people prefer to create their blog themselves, since this would not involve a cash outlay. However, the time investment in this task is greater because there is an element of learning involved. The first important decision when creating your blog is whether you are going to use a platform with free hosting or a paid platform. There is a big difference between the two options.
Normally when choosing between paying for something and having it for free, the vast majority of people choose the free version. Now, when we talk about your blog, you will have to think about what you want your results to be. If you want to have a personal site, aimed at friends, family, etc., with the free version you will have no problems. However, If you are thinking of your blog as the "central nerve" of your internet business, certainly the free version will not do you any good.
A free blog won't give you the customization options you need to establish your Personal Brand in the first place. Also with this option you will not be the owner of your content, since your site is managed by the company that hosts it and they have all the rights to your content. If for any reason, they feel that you have not followed their policy, your blog can be taken down without notice and you will lose everything. I personally know of some cases and I can assure you that it is not a tasteful drink.
Having a professional blog means having to make a minimal investment in hosting. And if you really want to be in online business you have to have an investment mentality. Investment in basic tools and in your education. I'm not talking about thousands of dollars. As for a quality and trustworthy hosting, I recommend this option:Host Gator. In these companies the installation of WordPress is extremely easy. And I mean WordPress because I consider it the most effective blogging platform. Also, Google loves WordPress! If you really want to have an effective blog, you will want to use the platform with more options and greater support, and WordPress is that platform. Keep in mind that WordPress has two versions, the free one, which is the one I referred to earlier, in WordPress.com and the one that is installed in a hosting, in WordPress.org
If you are determined to create a blog that truly is the "nerve center" of your online business, of course I recommend WordPress.org. In my case I have set up my entire blog on my own and have honestly never tried to create a website before. I had to learn a bit of html and CSS (which I did by searching for information on Google) so that my blog had the style that I wanted, down to the smallest detail, and I'm still missing some.
And that means that if I could do it, you can do it too. You just need to take action and start building your blog effectively … you have all the information on the Internet.
Stay tuned to the blog, there is still Part 3 of this series, which will later be complemented with a lot of tips on blogging … I'm already working on them.
Create a blog: tips to optimize and monetize a profitable blog
Part 3: How to Get Qualified Traffic for Your Blog
Alright, we've come to Part 3 of this series on how to have a successful blog. In Part 1 we saw what a successful blog is and how it works.
In Part 2 we saw the concrete steps to take when creating and setting up a blog.
So now we go to the next step, one of the most important, if not the most, which is how to get qualified traffic for your blog.
I am going to use an analogy for this article. Think of the Internet as a great ocean. And think of your blog as a tiny island in the middle of this ocean.
Nobody knows it exists, nobody knows it is there. And this is the great challenge! You must provide tools to travelers to reach your island. This is the most important step in a blog.
Your blog can be the best organized, cleaner structure with an excellent visual presentation … but if you don't get traffic for him, all the money and time you have invested will have been for nothing.
It is clear that the first thing you do when you write on your blog is to make a very specific article or post.
People ignore this at first, but you have to make sure that you will talk about a specific point and it has to be well written.
You don't need to be a professional writer to do thisYou just have to have a very well defined point for your article and stay on topic.
The more specific you are, the more traffic you will receive, and this is very important.
Let's go back to the ocean analogy.
Some travelers have been to "your island." So there are two possibilities, that they left with a very good impression or that they left with a bad impression.
You undoubtedly want your blog to be one of those that makes a good impression. What is the first thing a traveler will talk about when they get home? From his experience on the island.
When reading your blog, if people liked what they saw, the content you offered them… they will send other people there!
And this is excellent traffic. To get your blog to spread virally, the content has to be attractive, so you will get your readers to send you to others and these to others. Otherwise, you'll end up just working in circles, spending time trying to get traffic from people who will never come back.
Social Networks are an excellent tool for your blog to spread virally in many ways. The first is the famous "word of mouth." People will share your articles on Social Networks if they like your content, if they consider it helpful for others. This helps them promote themselves and you, too, at the same time.
Make sure you have the Facebook and Twitter buttons, at a minimum, to facilitate this process on each article or page of your blog..
Social Networks also allow you to create "bridges" to that island in the middle of an ocean that is your blog. Being an active person on Social Networks allows you to market yourself and your blog. Having a link to your blog in your profiles will allow anyone to know a little more about you, if they wish.
If they like what you comment or contribute in the discussions in any group or forum, they will surely "travel" to your blog to find out more about you. Another way you can lean on is social bookmarking. Putting a blog post on social bookmarks can make your blog be seen by many, many people.
There are many WordPress plugins that will allow you to do this, and your readers as well.
Another way to get visits to your blog is to organic form. In the analogy of the island, it would be where it is located on the world map. When people search for your island, she will appear. You want your blog articles to rank very high in search engines so that they have great visibility.
This, by far, is the best technique to get traffic for your blog, because the work you do once, will remain in cyberspace forever, without the need for more work on your part.
When you write an article on your blog, you should focus on keywords specific, which are ultimately the ones that will attract your target market to your blog. Keyword research is very important when you are trying to rank your blog organically. This topic is too big to go into detail now.
Along with keyword research, another way you can help your blog to be found by more and more people through search engines is to work with an SEO plugin.
There are many also for WordPress, but personally I think that by far, the best is All in One SEO Pack.
If you follow these steps, consistently and consistently, your blog will start receiving concentrated traffic every day. Your visitors will like what they read, they will receive value from your articles and they will tell others about it. The more visits you receive to your blog, the greater the number of potential clients you will have for your business.