On the internet there are billions of conversations: In our blog we create, and although it is also possible to interact on the blog, the current trend is to share and converse on social networks. Social media is booming. And if you have a blog, you must have an action plan on social networks (a Social Media Plan), even if it's simple, because it is not about talking for the sake of talking. You must set objectives, your strategy and the actions to implement. It seems difficult but it is not so much, if you do not know how to do it, subscribe to this blog because I can help you.
A blog of our domain and property is the central axis of our business strategy on the internet. In it, content of value and relevance for our target audience must be created and generated, so that thanks to them we can create a really interested and faithful audience, keep you informed and interact either on the blog itself or on our social sites. LISTENING TO IT and knowing what you need, we will create a conversation, we will feed back on it to create new content or products that our audience demands of us.
A loyal audience can be our best advocate and ally, so it is worth not having our blog as a simple showcase of our products or services: we must also guarantee "attraction" through updated, quality and well-focused content, as we have told here.
It is also essential that our blog is connected to our social profiles and that it has the buttons to share content well visible and working, so the blog is also collects and redirects user traffic to our fan pages or to the advertising actions we undertake on our favorite social networks, and if it is well done we can get some virality.
But we must not forget that the blog is ours, and our social profiles are not. Therefore the key is to direct the traffic of visits and subscriptions to our blog. I know of more than one case whose Twitter or Facebook account has suddenly and without prior notice been blocked, imagine losing all your work and your followers… it would be fatal! But if you have your list of subscribers you are saved.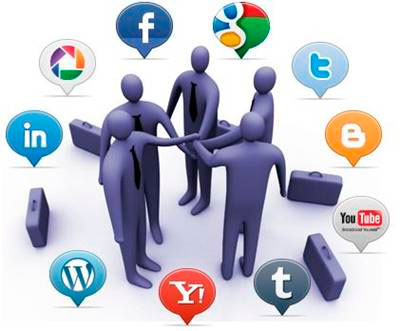 Both the blog and social networks serve us for a basic objective of our plan: promote the subscriptions of users and potential customers. And since the objectives must be measurable, to check if we are achieving it, in both cases we have tools to measure our reach. In the blog the number of visits, subscriptions, comments or requests for information through forms, clicks on links … And in social networks the company pages, product, etc. they also collect and quantify the interactions with our followers with their simple but useful analytical tools.
If you see that day by day you are achieving a good number of subscribers and followers, better than better, you are doing very well … AND you can always improve by implementing, for example, good email marketing campaigns. But we'll talk about that another day in another post.
By the way, do you already converse with your audience enough and with a clearly marked objective?… Shall we talk about it?
You can comment on this entry and if you like it, share!