Access Florida is an excellent program designed to help out individuals who need a little bit of help. This program understands that sometimes people need a little bit of help and especially puts a premium on helping low income families to see children get the opportunities they need to finish school, have enough food to eat, and get every chance at a more healthy and productive life. This program is critical for a large number of lower income Florida families, but what happens when an individual loses benefits or are denied benefits from the program? Depending on what the reason is, there are a few options available.
First, make sure you still qualify for Access Florida
There are income cut-off levels where a worker no longer qualifies for assistance. Take a look and see if a recent raise or second job has put your income above the maximum allowed. Generally the maximum level is 180% over the federally stated poverty line, an amount that varies depending on the size of the family. Sometimes in special circumstances the number might be 200%. However if an individual earns more than that then he or she simply cannot qualify for Access Florida benefits – the income standards are pretty strict.

Losing benefits
Losing benefits can be traumatizing, especially if you were counting on those for shopping, a badly needed medical service, or just keeping the lights on to the end of the month. If you were on benefits and then received a form letter stating you were no longer eligible the first course of action is to find out why. In addition to rising income levels for the family, there is also the chance that fraud might be involved. In this situation it's important to see if maybe benefits were pulled for incorrect reasons or because of the illegal or unethical actions of someone else.
Challenging loss of benefits
One of the most important parts of challenging for benefits is to make yourself known. The best way to do this is to go to the nearest DCF office in person and ask to speak to a worker about your situation. Be polite, be courteous, and have any paperwork with you that can help your case. By getting an idea of how each office prefers to have challenges handled and by making a good impression in person, you at least set the overall mood in your favor.
What to expect from the process
This is hard to say as it can vary quite a bit from office to office and on case to case. Was the cause of the benefits being pulled a computer error? Fraud from another individual? Or did your time just run out (like with the Temporary Cash program, which is limited to a set number of months for an entire lifetime). The one thing that generally does not happen is a one or two day resolution. These things can take time to properly sort out and you should be prepared as such.
5 Good reasons to become a Florida resident
Florida may offer the best housing exemption in the country.

Many states raise tax rates when they struggle to raise revenue. The wealthy and even the not-so-wealthy are beginning to look for ways to minimize their tax obligations. And some states with income taxes also collect state death taxes.
When these two taxes are combined, it can provide a great incentive for people to look for a more desirable and less demanding place to call home like Florida.
There are some other benefits to living in the state as well. Florida's family home exemption is said to be one of the best, if not the best, in the country.
Five benefits of living in Florida
Does not collect individual income tax
Florida is one of only seven states that do not collect an individual income tax. The other six are Alaska, Nevada, South Dakota, Texas, Washington and Wyoming. Moving to Florida from a state like New York can save someone in a high-income tax category many thousands of dollars in taxes.
This prohibition on collecting an individual income tax is part of the Florida Constitution, so Florida will not be imposing a state income tax in the short term. A constitutional amendment would be required to change this provision.
The state constitution also prevents counties and municipalities from imposing any income tax at the local level.
No state inheritance (death) tax
Florida used to collect a state inheritance tax in the form of a "recapture tax," but changes in federal law phased it out in 2005. Many states took steps to maintain state death tax revenues, a process known as "decoupling. But not Florida. The state constitution also prohibits the imposition of a state death tax.
Moving to Florida from a state like Massachusetts or New York could save a family considerable money when a loved one dies.
It offers many asset protection benefits
You should not have to worry about losing your assets to a creditor or in a lawsuit if you live in Florida. The state offers many asset protection benefits, including:
Homestead creditor protection
Tenancies by the entirety for real property as well as personal property
Protection of the cash value of life insurance
Protection for IRAs and annuities, and
Protection of assets held in a properly structured business entity
A creditor cannot claim your home to satisfy a debt unless it is the mortgage lender. There is no constitutional rule against foreclosure. And because the state recognizes tenancies fully, this includes your spouse's creditors, as long as you are not also contractually responsible for the loans. Full tenancy is a form of property reserved for spouses.
Property tax benefits for primary residences
You will also receive two property tax exemptions if you purchase a home in Florida and declare it to be your primary "home" residence.
First, you will receive an exemption for the first $50,000 of your home's value for property tax purposes, except for school district taxes which only receive a $25,000 exemption.
There is also the Florida "Save Our Homes" cap on annual assessments. The limit is set at 3 percent or the change in the consumer price index (CPI), whichever is less. It means that the assessed value of your home for property tax purposes cannot increase annually by more than the change in the CPI or by 3 percent if the change in the CPI is greater than 3 percent.
For example, the CPI change is 2.9 percent in 2018, so the 2018 assessed value of a family residence cannot increase by more than this. It is less than the 3 percent limit. The CPI change was 4.1 percent in 2008, but the increase was limited to 3 percent because it was less.
It can be a big problem if you plan to stay in your home for many years. The value of a property generally increases over time, so it will eventually reach a point where it's worth more, perhaps much more, than its assessed value. You are building capital each year that will effectively be protected from property taxes.
It's home to the best wealth strategists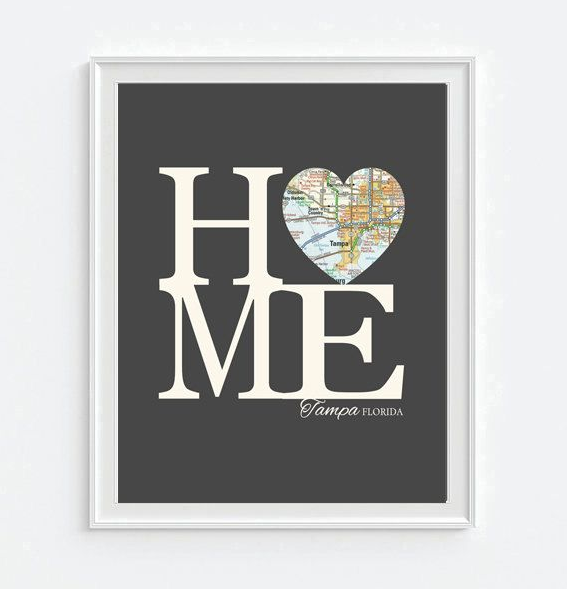 Florida is such an attractive state for the wealthy to call home that it is also home to many wealth strategists, tax advisors and estate planning lawyers. These advisors are creative and proactive in helping their clients with growing wealth, minimizing taxes, avoiding probate, keeping clients' final wishes private, and creating a continuing legacy.
Should you become a Florida resident?
Becoming a Florida resident is not difficult or complicated. It is just a matter of taking a few basic steps. The most difficult part will be cutting ties with your former home state to convince the income department of that state that you no longer live there and therefore cannot pay taxes there.
This is particularly important for someone who continues to maintain a home or business in another state while residing in Florida.
State of Florida Employment Benefits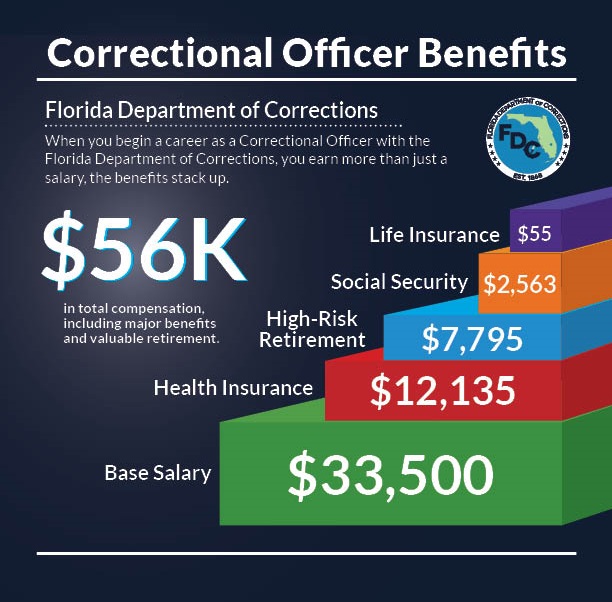 Standard Benefits:
Paid vacation, sick leave and holidays
Comprehensive health insurance and life
insurance with accidental death and dismemberment benefits
Supplemental dental, vision, life, disability and hospitalization insurance
Promotional Opportunities
Tuition-Free college courses
457 Tax Deferred Retirement Plan
Correctional Officers and Probation Officers May Also Receive:
"Special Risk" retirement multiplier
Criminal Justice Incentive Pay (CJIP)
Annual uniform and shoe allowance (Correctional Officer only)
Annual salary additive for Palm Beach, Broward, Dade, Monroe, Indian River, Martin, Okeechobee, or St. Lucie counties