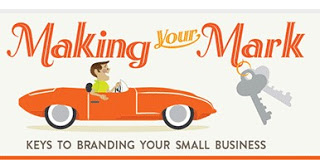 One of the main challenges for any of
The entrepreneurs
It is the step to create your own personal brand, whether you are a small entrepreneur who just wants to take the step to create your business, or you are already an established SME but still does not have a name or form or a personal brand, having a Personal brand identifies us, makes us unique, distinguishes us from our competitors and is what most attracts our customers.It is not the same to think of a business with a long name, without image and without presence than in one that has a clear name and a concise message, it is a difficult job especially when you do not have a strategy or do not know how to start, for that, here you go:
6 Simple Steps to create your own personal brand.
Know your goal
Knowing your public is the main thing, if your business focuses on a very specific type of public it is necessary to focus on what that type of public likes and focus our brand on something that our clients like, their lifestyle, Their tastes, their colors are things that will bring us closer to our client, for example if we have a classic car rental business we should not use colors or aspects that our public does not like.
Keep things simple
Many times when we want to attract attention we use everything so that people turn to see us and we fall into the error of visually contaminating our main message with foreign objects, an efficient message should be as simple as possible to understand and above all free of any distraction.
Be consistent with the image
One of the worst mistakes we can make is not being consistent, we should not start with an idea and start to create a brand and change it in all the places where we present it, whether it is printed on a card, in an advertisement, on a website The image and the brand must be the same, we must not change the Logo or the colors that represent us, we must be consistent and let our public know that when they see our colors or our logos they know that it is about us and not about someone else, do not create confusion.

Be Visible
You must consider your presence on the Internet, nowadays personal brands are created more easily when they are supported by the power of the Internet, the disclosure is usually more penetrating and above all it is not necessary so much investment or unnecessary physical effort or time, in addition We must remember the previous point to maintain the same appearance and that our visits feel like in the store.

Be Social
Social networks are a strong point now in the
Internet business
, being able to interact with our clients on social networks that have strong activity every day, is something we must consider.
Make your brand have a voice
Your brand must identify you and above all represent you, that it has a voice means that it speaks for you, for your business and for what you offer, that it identifies you for the years that follow and not that it causes you pain so think very well about the latter point before working on everything else.
What is an Identity and Corporate Image Manual?
Just as companies and organizations have (or should have) a mission, philosophy, good practices, etc. that are part of their activities and what separates them from their competition. In the internal graphic part and especially towards the client, you must have a document that is the guide of use to achieve that it can be congruent. We call this document the Corporate Identity Manual.
Some of the advantages that we can highlight of having a Corporate Identity are the following:
Provide the organization with a form of identification
A homogeneous and clear visual identity, identifiable and lasting over time.
Identity facilitates interaction from the outside.
The visual identity helps the members of the organization (owners, shareholders, employees …) feel that they are part of a team.
All organizations, no matter their size, should take care of their visual identity, in the same way that they take care of the relationship with their customers and suppliers, or the quality of their products and services.